Many Turkish Alevis are suspicious of the uprising in neighboring Syria. They are worried of the repercussions for Alawites there, as well as for themselves. Both Turkish Alevis and Syria's ruling Alawite minority are an offshoot of Shia Islam, though the latter are ethnically Arab.
More than 15 million Alevis live in Turkey, making up to a quarter of the population and hence Turkey's largest religious minority. They're considered more liberal and are often not fully accepted by the Sunni Muslim majority.
As the crackdown in Damascus continues, ties between the Alevi in Turkey and Alawi in Syria may play an ever more decisive role in the destiny of both.
Persecution feared
At a meeting of Alevis in central Istanbul, the main topic of discussion was the imminent danger faced by Syria's Alawite minority. Ali Kenanoglu, head of the Turkish Hubyar Sultan Alevi cultural society, said he was concerned for their fate in the Syrian tangle of powers. He was also worried about the ongoing conflict between Sunni and Shia Muslims.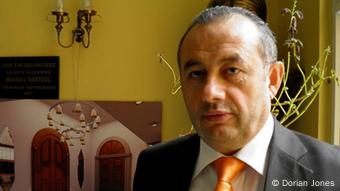 Kenanoglu described past repression against Alevis
Large parts of Syria's military and political leadership, including the family of Syrian President Bashar al-Assad, are members of the minority Alawite sect. Kenanoglu said that some groups fighting Assad's regime were identifying with historical Sunni figures who fought the formerly repressed Alawite minority.
"So their intentions are clear towards Alevis [in Syria]," Kenanoglu told DW. "If they succeed, there will be terrible massacres and they will be forced out of the country."
At the meeting, the fate of Syrian Alawites and foreign conspiracies against the Assad regime seemed to be of greater concern than the atrocities committed by the Syrian government against its opponents. Last month, Turkish Alevis close to the Syrian border protested in support of Assad. But according to some, that is going a step too far.
'Connected by a brotherhood'
Although there are religious and cultural differences between Turkish Alevis and their Syrian Alawite cousins, they both share a common identity, said Kamil Aykanat, who heads the Haci Bektas culture foundation, another Alevi group in Istanbul. Alevis around the world are in solidarity, he said.
"We are Anatolian Alevi, they are Arab Alevi, but wherever you go in the world, if you use the word Alevi you are connected by a brotherhood," Aykanat said. He said he feared the possibility of the Turkish government taking sides in a sectarian civil war in Syria.
"That's why we believe our country should be neutral in the events happening in Syria," he said.
Sectarian suspicion
According to Soli Ozel, a political commentator for the Turkish newspaper Haberturk, many Alevis are already deeply suspicious of the Sunni roots of the ruling AK Party in Turkey. Ozel said he saw Turkish Prime Minister Recep Tayyip Erdogan's support of the Syrian opposition as drawn primarily from fellow Sunnis. This threatened to fuel historical sectarian division within his own country.
"In a region where the lines and swords are drawn along sectarian lines, I really don't how Turkey can actually keep itself above the fray," Ozel said. The impact this might have on Turkey's own divide between Sunnis and Alevis remained to be seen - one which Ozel considered tense.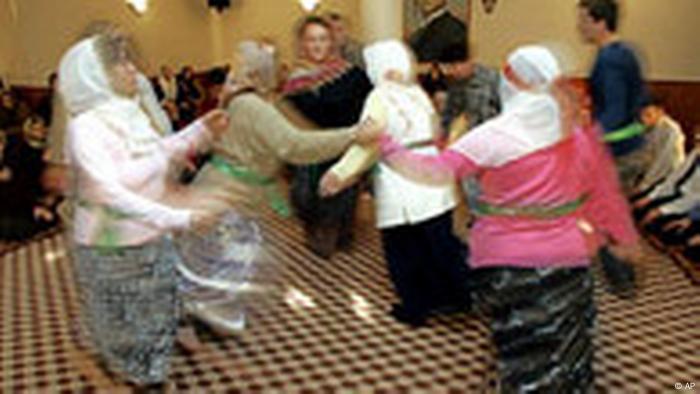 Many Sunni and Shia traditionalists consider Alevi heretics for such practices as allowing mixed gender worship
Alevis don't pray in mosques, but rather in so-called cemevis. They worship through music and dance, and do not segregate men and women. For some of Turkey's majority Sunni population, that's heresy.
Some Alevis allege that government promises to address Alevi grievances of discrimination have been quietly shelved. Professor Istar Gozaydin of Istanbul's Dogus University, who was part of a government inquiry into Alevi rights, said the Sunni roots of the ruling AK Party prevented it from even addressing the fundamental demand of officially recognizing Alevi religious beliefs.
What looked like dialogue had turned out to be an attempt at assimilation, Gozaydin said.
"They don't accept cemevis as a place of prayer - they see it as a cultural center," Gozaydin said. "Unless they start accepting it as another understanding of the religion, it's out of the question to come to an understanding of each other."
History of persecution
Turkey's Alevi have been persecuted both in past centuries and in more recent times. In the Turkish city of Kahramanmaras, a 1978 pogrom left 109 Alevis dead after their homes were marked by a red cross.
Last month in Adiyaman, Turkey, dozens of Alevi homes were similarly marked, raising alarm. The government initially dismissed the event as a prank by children, but launched an investigation following protests.
Turkish Alevi anger with the government boiled over into protests earlier this month after a court ruled that the statute of limitations had run out for five suspects on trial over an arson attack that killed 37 people, largely Alevi intellectuals and artists, when a Sunni mob burned down a hotel in Sivas in 1993. Kenanoglu said he feared the Prime Minister's rhetoric against the Syrian president was stoking the fires of sectarian tensions in Turkey.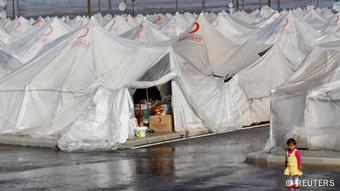 Turkey has set up camps for Syrian refugees
"Whenever he talks about Syria, he refers to Assad as an Alevi," Kenanoglu said. "This is legitimizing a view in Turkey that Alevis are responsible for massacring Sunnis." He added that in Turkey, Alevis continued to be in a sensitive situation.
Uncertain future
At an Istanbul cemevi where Alevis worship, there is continued unease about events in Syrian and their implications for Turkey.
An Alevi man said he was worried about what would happen if tensions in Syria boiled over into an all-out conflict between Alawites and Sunni.
"It could come to Turkey," the worshipper said. "But Turkish people have changed, there is more common sense between Sunnis and Alevis, so I hope it will not come to that."
Author: Dorian Jones, Istanbul, Turkey / sad
Editor: Sabina Casagrande