The appointment of Nigeria's Agriculture Minister Akinwumi Adesina as the next head of the African Development Bank (AfDB) has generated many reactions from Nigeria and also across Africa.
Soon after he was voted in as the new president of the bank, Adesina wrote a note of thank you to his fans on his Twitter account.
This followed a flood of congratulations messages on social media and elsewhere from his home country Nigeria and from across the continent.
Speaking at an inauguration dinner for Nigeria's newly elected President Muhammadu Buhari, Nigeria's outgoing President Goodluck Jonathan voiced his support for Adesina, "For me, it is a good parting gift."
Adesina was voted in on Thursday, just a day before the closure of the bank's 50th annual meeting. 54 African countries and 26 non-African countries, who are also shareholders of the bank took part in vote.
Adesina was among eight candidates who were vying for the post. His two main rivals were Chad's finance minister and Cape Verdean finance minister.
On Semptember 1, Adesina will take over from Donald Kaberuka, a Rwandan national who has been the president of the bank since 2005.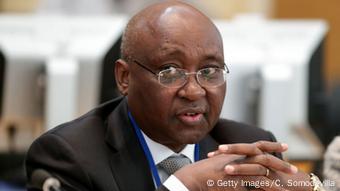 Donald Kaberuka, a Rwandan national, has been the bank's president for two consecutive terms
Agriculture is the way to go
Born 55 years ago in Nigeria. Adesina earned a PhD in agricultural economics.
He is the winner of several awards in the agricultural sector, including the prestigious YARA prize, which was given to him for introducing innovative means of improving farmers' yields.
Nigerian farmers have seen significant agricultural reforms under Adesina. In 2012 he introduced an e-wallet system whereby 10 million mobile phones were distributed to Nigerian farmers. This was done to avoid middle-men, who have always been a stumbling block when it comes to receiving information on seedlings and fertilizer vouchers.
A large number of farmers registered for this system and analysts say that it has made the lives of many Nigerian farmers easier. This innovation led Forbes Magazine to name Adesina African of the year in 2013.
Wealth creation
As the president of the bank, Adesina plans to make the agricultural sector more attractive to young people, create jobs for them and finally improve the continent's rural economies.
Speaking to DW a day before Adesina was elected as president, Omar Ben Yedder from IC Publications in London, said Adesina's aim is to create wealth and this is what Africa needs at the moment.
He wants "to encourage people to enter the agricultural sector and to make it a sector which is also attractive to the banks and to investors" Ben Yedder said.
"We really need to make the continent one where we are not looking for handouts but we are looking for partners, we are looking for investors and we are looking for people who will help in the transformation," Ben Yedder added.