1. Sufian Ahmed: The maker of one of Africa's leading economies
He is Ethiopia's long serving Minister of Finance and Economic Development. Ahmed is known to many as the one who has made his country one of Africa's leading economies. He currently serves on the Board of Governors at the African Development Bank. He is an economist and holds a master's degree in economic development and planning. Ahmed believes that he is the best man for the top job, but his lack of other languages, particularly French, which is one of the working languages of the bank, might be a big minus for his candidacy.
2. Jaloul Ayed: Banker and musician
He is Tunisia's former Minister of Finance. He was appointed an interim minister during Tunisia's Arab spring in 2011 and left the position in December 2011. He is a politician, a musician, a composer and he has wide experience in international banking and finance. He is an economist and holds a master's degree in economics. If chosen as the president of the bank, he hopes to guarantee a better future for all Africans.
3. Cristina Duarte: Could be the first female president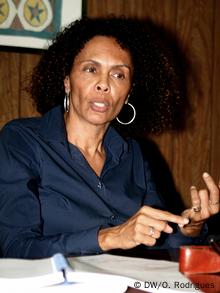 Cristina Duarte, Minister of Finance in Cape Verde
Cristina Duarte is the Minister for Finance, Planning and Public Administration in Cape Verde and has been in the post since 2006. She has been working hard to raise Cape Verde from a low to middle-income country. She is also known for her determination in undertaking reforms and building institutions in response to emerging global and development challenges. She has 30 years of experience in government and the private sectors. She is an economist and holds a master's degree in business administration. 52-year-old Duarte is the first woman to vie for the presidency of the African Development Bank.
4. Kordje Bedoumra: A man for the AfDB's make-over?
He is Chad's Minister of Finance and Budget. He has worn several hats in his banking career and worked for almost three decades within the Pan-African institution and he knows exactly where the bank needs a make-over. He knows the bank inside out and has now decided to run for the top job. He is a telecommunications engineer and holds a master's degree in electronics. His major interest is to use the position to create sustainable employment to cater for the needs of young men and women who make up the largest part of the African population.
5. Samura Mathew Wilson Kamara: International banker and diplomat
He was once the governor of the Bank of Sierra Leone and is currently the Minister of Foreign Affairs. Some people describe him as an articulate, unassuming diplomat with vast experience in economic development. He thinks he can speed up the way the bank is operating and so accelerate the pace at which the continent is moving. He believes that the mix of his experience in international banking, in general economic management and international diplomacy make him the best man for the job.
6. Akinwumi A. Adesina: "Africa is not a continent of poor people"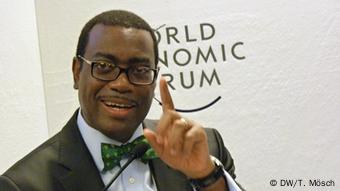 Akinwumi Ayodeji Adesina, Minister of Agriculture and Rural Development in Nigeria
He is the outgoing Minister of Agriculture and Rural Development for Nigeria. He has been in the post since 2010. He is a supporter of the Green Revolution in Africa. As a minister, Adesina transformed the Nigerian agricultural sector. He holds a PhD in agricultural economics. Having experienced poverty first hand, Adesina's goal is to bring hope and prosperity to all African people. He is seen as the man who could boost the rural economy and strengthen regional trade.
7. Thomas Zondo Sakala: SADC nominee
An experienced Zimbabwean economist and development banker, Thomas Zondo Sakala is the South African Development Community (SADC) nominee. He is the former Vice-President of the African Development Bank in charge of country and regional programs, a position he held till 2014. Sakala was born on 3 March 1955 in rural Zimbabwe where he attended primary and secondary school. He holds a master's degree in economics. Sakala's compaign centers around building a confident, integrated and prosperous Africa. He thinks having a winning team is core to having a successful bank that serves Africans.
8. Birama Boubacar Sidibe: "Africa needs a dynamic development bank"
He is currently the Vice President of the Islamic Development Bank. He is another veteran of the AfDB. Prior to his current post, Sidibe worked for more than 20 years in the AfDB, holding several technical and managerial positions. He holds an engineering degree and master's degree in water and sanitation. His vision is to have a modernized, dynamic, effective African Development Bank, responsive to the needs of its members, providing innovative and lasting solutions in the service of the emerging continent of Africa. He is counting on his two decades of experience to get him the job.