Eight candidates are competing to become the next president of the African Development Bank (AfDB). The winner will replace Donald Kaberuka (pictured above), a former Rwandan finance minister who has led the bank for a decade. He is due to step down on August 31. The AfDB is marking its 50th anniversary this year. Under the leadership of Kaberuka, the bank allocated nearly half its funds to infrastructure development in Africa. For an assessment of Kaberuka's performance, DW has been speaking to Omar Ben Yedder, group publisher and managing director of IC Publications in London.
DW: How do you rate Donald Kaberuka's performance?
Omar Ben Yedder: I would say it has been a very solid performance. His predecessor, Omar Kabbaj from Morocco, had a very difficult job in improving the processes and strengthening the position of the bank. So Donald Kaberuka inherited a bank that was working with huge potential and he has managed to transform that potential into concrete results. Obviously, it isn't perfect, there is a lot to be done - the bank needs to be quicker, in terms of lending money, accepting projects and moving projects at a quicker pace. There are certain reforms that need to be done, but overall the performance has been very good. I think the person who is going to inherit the bank is going to inherit a strong institution.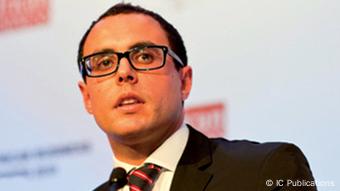 Omar Ben Yedder is with IC Publications which publishes African Banker and African Business
Three candidates stand out in the race to succeed Kaberuka - Nigeria's Agriculture Minister Akinwumi Adesina, Cape Verde's Finance Minister Cristina Duarte and Ethiopia's Finance Minister Sufian Ahmed. Which of these three do you think is the best person to take over the AfDB and why?
I'm not sure that those stand out more than the others. The first round will be quite political. They have all got competencies in different fields. For example you have got the Chadian minister, who has spent a lot of time in the bank, is very well liked at the bank, having worked in certain positions that are very difficult ,and he is extremely able. We have got as, you have mentioned, the minister of Ethiopia. Ethiopia is one of the fastest growing economies in Africa, especially if you look at the last two to three years. If you look at Christina Duarte, she is really very competent. She does not take any prisoners, she just gets to the point, she is outspoken, she knows what she wants and she goes and gets it. But obviously it is different managing a small economy of a small country of half a million people than running a bigger country. So we are not comparing apples with apples, but she is extremely competent and I am sure, if given the chance, she is will do a fantastic job. It's said that women think about the next generation. So there is a different mindset there. I think that should be a very able person for the AfDB.
You also mentioned Akinwumi Adesina. The good thing about Adesina is that he does not talk about development but about wealth creation and that is ultimately what we want. He wants to create an agricultural sector which is attractive to the youth, which is attractive to the people. To encourage people to enter that sector and to make it a sector which is also attractive to the banks and to investors and that is where we really need to make the continent one where we are not looking for handouts but we are looking for partners, we are looking for investors and we are looking for people who will help in the transformation.
So the three candidates that you have mentioned are all very competent, but as I said, they are not the only ones. Tunisia's Jaloul Ayed is an extremely competent banker. He knows the banking industry inside out. Then there is Sidibe from Mali - again, very able, he has tried his hand at many development institutions and he has been very successful and very diligent. He can offer something different. I think the bank will elect the person it needs. Today the bank needs a person who is inward looking to continue with the transformation, as well as outward looking to continue positioning the bank internationally, to continue to be the voice for economic progress and development on the international scene.
What challenges will the next president of the African Development Bank have to deal with immediately?
Depending who I speak to within the bank, some say it has worked very well. It's been less problematic than some people had anticipated. But at the same time it has been a little bit destructive. So some one needs to come and possibly bring a new light of life. You have people who have been in the bank for many years and want to be inspired again, improve morale in the institution. It's about reinvigorating the bank internally, in terms of decentralization. That I think needs to be looked at, to see how to make it work more effectively. The bank has been criticized for being slow in terms of disbursement, in terms of identifying new projects. People are coming to them with projects and [to get the] projects running, is usually a little bit long winded and slower than some people would like.
I think the new candidates all believe that we need to mobilize the bank's credibility to be able to fund big infrastructure projects, to seal that gap that people talk about, the multibillion infrastructure gap. So yes, the bank needs to think innovatively, to be able to keep its triple A credit rating. The bank faces many challenges; we live in a fast moving environment and the bank needs to adapt with times like anyone else.
You are currently in Abidjan, how much lobbying is taking place by people hoping to see their candidate win this much contested seat as the president of African Development Bank?
There is a lot of lobbying here, there are a lot of meetings. Everyone has been very quiet and no one is revealing much, be it the candidates themselves or the governors who vote. We know that southern Africans will vote for their regional bloc, the Zimbabwean, but if he doesn't go through, who will be next? That has not yet been revealed. Everyone is keeping their cards very close to their chests, no one is saying much. The people who have been managing the campaigns, they are giving one last big push. They are having interesting meetings with the various countries, the various governors who will be voting to elect the new president but it is going to be a closely fought contest, it is going to be political and meritocratic.
Omar Ben Yedder is the group publisher and managing director of IC Publications in London.
Interview: Isaac Mugabi