Freezing temperatures and snow have affected much of Europe, claiming several lives and disrupting travel. For much of Germany it has been the coldest December 1 in decades.
Thermometers in Berlin clocked minus 10.9 degrees Celsius (12.3 degrees Fahrenheit) overnight, marking the coldest start to December in almost 80 years, while the most populous - and usually one of the most temperate - of Germany's states, North-Rhine Westphalia, experienced its chilliest December 1 since 1973.
Germany's largest airport, in Frankfurt, reported that very few flights were disrupted by the weather, after the icy temperatures had forced the major hub to cancel almost 300 take-offs and landings on Tuesday. Roughly 60 flights were cancelled Wednesday, but a spokesman for the airport said this was largely a spillover from the previous day's chaos.
Munich airport, however, was forced to cancel some 250 flights on Wednesday afternoon.
The roads in Germany remained largely clear, considering the conditions, although shops and markets around the country were beginning to complain of missing or late stock deliveries as truck drivers battled against the elements.
Deadly cold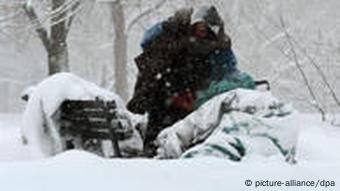 For those without shelter, the weather is a life-threatening matter
Polish police said at least eight men had frozen to death since Monday in Poland, where temperatures had fallen to around minus 20 degrees Celsius in many places. They said the men were aged between 33 and 72 and had been drinking alcohol.
A pensioner in Austria also died overnight in the northern town of Freistadt. Public broadcaster ORF reported that the man fell over while walking home from a funeral, lost consciousness and was not found for several hours, by which time he had frozen to death. Officials in Vienna were also forced to close the motorway ring road after several trucks ground to a halt.

Snow forced airports to close at Gatwick Airport near London, Edinburgh Airport in Scotland and Geneva Airport in Switzerland. In southern England, motor traffic was disrupted, with 400 trucks stranded on one iced-over motorway. Rail links were cut, forcing many commuters to remain home. Hundreds of schools were also closed.
Meanwhile Eurostar, which operates passenger rail service between England and mainland Europe, announced that close to half of its trains would be cancelled on Thursday and advised passengers to postpone nonessential trips.
Only the southern extremes of mainland Europe escaped the frost, with Spain and southern Italy enjoying milder temperatures; but both those countries were still struggling with unseasonably heavy rainfall. Rome's river Tiber, swelled by days of heavy rains, was close to overflowing in some areas on Wednesday afternoon.
Predominantly sub-zero temperatures and widespread snowfall are predicted to persist across much of mainland Europe until at least the weekend.
Author: Timothy Jones, Mark Hallam (AP, apn, AFP, dpa)
Editor: Nancy Isenson