The coronavirus pandemic is devastating the livelihoods of many journalists across the continent.
In normal times, reporters at the Nigerian independent radio network Dandal Kura International earn the equivalent of around $100 (€92) a month. Now the network has slashed their pay and been forced to ask a third of its staff to stay at home.
"We have about 57 staff members. We have asked 20 people not to come to work and we can only give [those staying at home] 20% of their salaries," explained the network's director, Faruk Dalhatu.
Dandal Kura is based in Maiduguri, the crisis-tested capital of Borno State in northeastern Nigeria, once the stronghold of the terrorist group Boko Haram.
The station reaches a large audience, not only in northeastern Nigeria, but also in Chad, Cameroon and Niger — all countries where the Boko Haram is still active.
A lack of advertising is the reason for Dandal Kura's dire straits. Even before the pandemic, the north of the country accounted for only 20% of Nigeria's total advertising budget.
"Now there is no advertising whatsoever," Dalhatu told DW, adding that it was hard for the network to meet fixed costs like salaries and electricity.
"We are facing imminent and total collapse," he said.
Running on passion
The Women Voices Newspaper in Liberia faces a similar situation.
"We really want to pay our workers well. I always talk about it," the newspaper's publisher Helen Nah Sammie told DW.
But advertising has dried up here too, she said, and her outfit is operating at a loss.
"Even the government, which used to advertise with us, is not advertising. They have debts with the media that they cannot pay," Sammie said.
The news director at Liberia's Truth FM, Oscar Mulbah, says the media was suffering before the coronavirus pandemic hit his country.
"I haven't taken pay for nearly six to seven months. Journalism in Liberia is just about the passion," Mulbah siad.
He points out that these problems have been worsened by the current crisis, when rigorous and truthful reporting is more important than ever.
Direct handouts not always welcome
In Niger, where the media has also faced a loss of advertising revenue, the chief editor of the private radio and TV outlet Saraounia is placing his hopes on the recent relaxation of the lockdown measures.
"We expect many branches to slowly restart their operations. Especially the passengers transportation sector, which is a major advertising agent," Oumarou Gado told DW.
Djadi Mahamadou, a manager at the privately owned radio and TV network Anfani, wants Niger's government to step in and help struggling media outlets.
"You can't just tell companies to shut down and expect them go on supporting running costs by themselves. I am sure that they will help," he told DW.
Dandal Kura Director Faruk Dalhatu also hopes for aid, but he has ruled out direct financial help from the Nigerian government.
"If we are given any handouts, then somebody will try to budge into [Dandal Kura's] editorial independence," he said.
Dalhatu suggests authorities could instead support media by paying for educational programs and advertising related to the pandemic, but he is skeptical. "Some of Nigeria's private television and radio stations belong to politicians, so they are in the politicians' pockets, I am sorry to say," he told DW, promising that Dandal Kura will not sell out.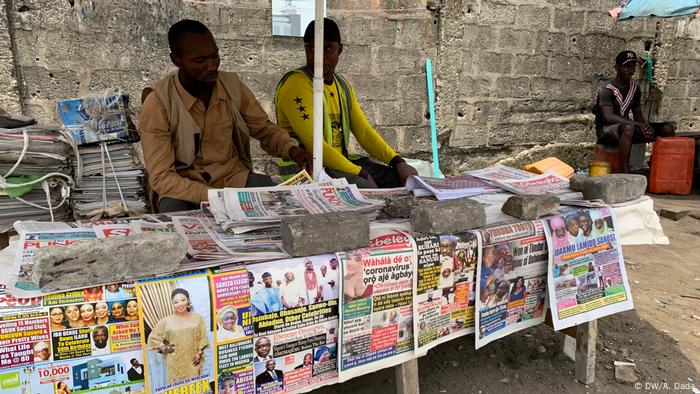 Independent media coverage of the coronavirus pandemic is essential
Uncertain future
The brain drain from media houses by respected journalists has picked up speed since the crisis.
In Liberia, many former reporters have switched to the public relations sector or found employment with the government, further weakening the press.
The price of oil, a main source of government revenue in Nigeria, has fallen steeply this year because of the COVID-19 pandemic. "I don't feel optimistic. The global economy is suffering," said Dalhatu, adding that this will have an adverse effect on government funding. "We are afraid, really."
Evelyn Kapdeh in Liberia and Boukari Salissou in Niger contributed to this article.
Every evening, DW sends out a selection of the day's news and features. Sign up here.