Melanie Oben doesn't just sing. She belts out the songs with such passion that she could replace the entire choir. Which is exactly what she's doing at the moment. Usually, around 20 other people would be standing with her right now. But the apse is almost empty. Only Oben, another singer and the keyboardist are here.
Read more: Germany's churches reimagined: Practicing faith in a pandemic
A silent church
"You can see how we need to make an effort here," says Oben, who is originally from Cameroon. Still, she says the extra effort is worth it. The song "Glory to God" echoes around the church and down to the pews.
Normally, the congregation would be standing up, clapping and singing along. But everything is calm. Only one woman in the back row hums along quietly, almost timidly, behind her face mask.
This Sunday service represents a little piece of Africa in the middle of Berlin-Schöneberg. Here, two worlds collide: The massive St. Elisabeth Church — with its dark wooden benches and Gothic-style windows — is quintessentially German.
But it is also a place of worship for the city's vibrant African community, who fill the church with songs and traditions from Kenya, Nigeria and Cameroon — Melanie Oben's home country. "When I sing here on Sundays, I feel at home," she says.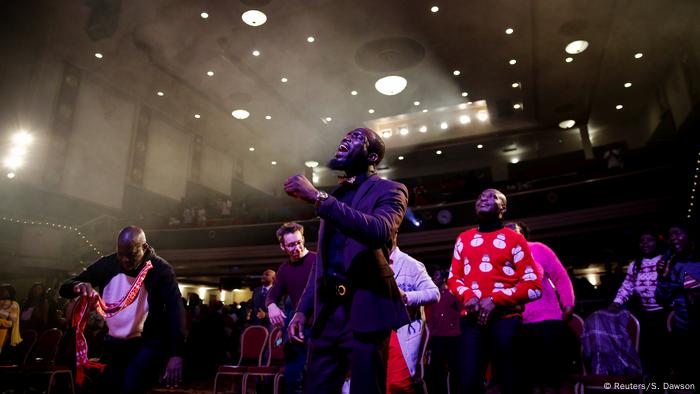 Church activities allow many Africans abroad experience a piece of their home culture
Worshiping under lockdown
But the coronavirus pandemic has changed everything. Since the beginning of May, church services in Berlin have only been allowed to take place under strict conditions.
If you want to attend a service, you first need to register. A maximum of 50 people are allowed inside the church. At the entrance, an attentive assistant watches closely as everyone disinfects their hands. Aside from Oben and her colleagues, no one is allowed to sing.
"Coming here is like coming home," Pastor Sylvester Ajunwa tells DW.
But the coronavirus pandemic means the home is mostly empty and quiet. Barely 30 people sit scattered in the big church. Even Ajunwa seems a little bit lost in his own sanctuary.
Read more: Nigerian religious leaders demand lifting of COVID-19 lockdown
Difficult times
The priest is responsible for around 1,000 English-speaking Catholics in Berlin and Brandenburg. Born in Nigeria, Ajunwa received his doctorate in Würzburg and is happy to be able to build a bridge between Africa and Germany.
Even in normal times, his job can't be done without a good dose of faith. "Belief in God is our anchor with which we will survive these difficult times, and we will continue to trust in his help," he says at the opening of his service.
And he does a lot to ensure that these aren't just empty words. This Sunday alone, he rushes through the city to lead four services. In St. Elisabeth Church, he holds two services instead of one, so that no one misses out.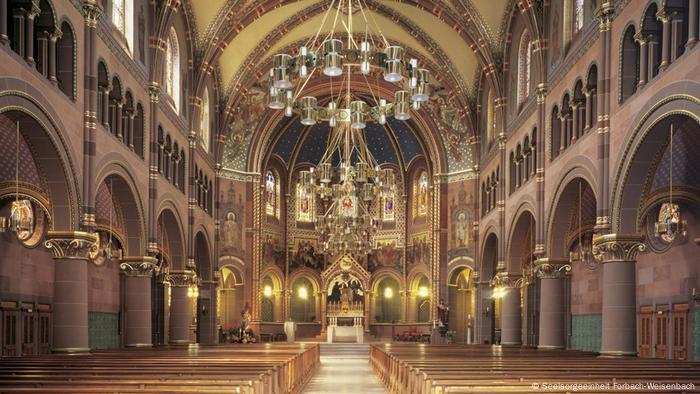 Many churches have had to contend with restrictions on services
Ajunwa is happy to take on the challenge. He knows what the COVID-19 crisis means for his congregation — especially when they are unable to worship like they usually would.
While others stay home out of fear, he personally meets with those who need some support — while keeping the appropriate minimum distance, he emphasizes. Otherwise he would call others. And then his phone keeps ringing.
"The community members have lost two things: Their spiritual life and their community life," he explains. "It's a place where they can talk about their problems from the soul and enjoy positive experiences together. So for many, it hurt a lot."
A missing community
For many people, it's still difficult. After the service, parishioners usually meet in the hall next door, where they eat, drink and talk — sometimes for hours. Now, the huge room is empty, the chairs stacked on top of one another. "The period after Mass is actually like a second celebration," says Ajunwa.
The faithful are no longer here — such as Godwin Nwaru. He says he usually never misses a service in St. Elisabeth Church, unless he's out of town.
"It's terrible," he tells DW after the service. "We have lost our community, the social aspect of our lives has been destroyed. We have not seen some community members who used to come here regularly for months."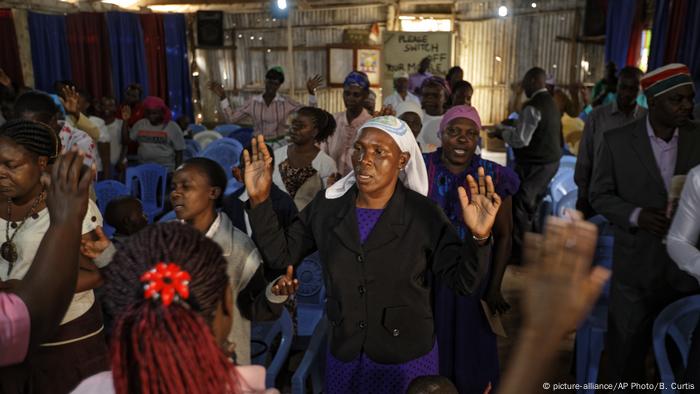 Around 40% of all Africans are Christian
Nwaru — who came to Germany 10 years ago and is now part of the parish council — says the new coronavirus service is missing a few vital things: "Our choir has been reduced. We used to also have drums, gongs and other instruments. It is no longer a proper African celebration."
Meanwhile, Melanie Oben is already preparing to sing at the second service, which should begin in around half an hour. The abandoned drums behind her remind her of better times. But she still doesn't want to complain.
"I am relieved that we can at least finally go to church and sing again," she says. "Here, I get my energy for the next week. We had to stay at home for over two months. For many, it was like hell."
DW sends out a daily selection of the day's news and features. Sign up here.