COP 20 - the acronym for the Conference of Parties to the United Nations Framework Convention on Climate Change - began in Lima, Peru, on December 1, 2014. It is seen by environmental experts as a crucial springboard to COP 21 in Paris a year later, where it is hoped a binding and universal agreement on limiting the effects of climate change can be reached.
The Pan African Climate Justice Alliance (PACJA) has been working to increase awareness across the continent of the importance of the Lima meeting. PACJA brings together a number of civil society organizations advocating for climate justice in Africa. Success in increasing awareness "goes a long way to influence a common African position in the climate talks," PAJCA secretary general Mithika Mwenda told DW.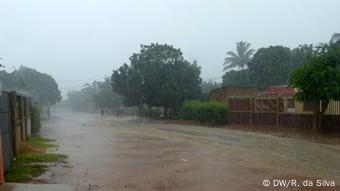 Africa suffers from floods as well as droughts
Another group, the African Group of Negotiators, which represents the continent at international climate talks, has also been calling for fair treatment from the international community to make the fight against climate change more effective in Africa.
"If you look at the 1994 Kyoto Protocol, there is the principle of common but differentiated responsibilities and also the concept of historical responsibilities. If people have contributed less to a problem and are suffering the most, that is inequity. So for any negotiations to be effective, these factors have to be included," Augustine Njamnshi, coordinator of Cameroonian NGO, the Bio-Resource and Development Program, told DW in an interview.
At the COP 19 meeting in 2013 in Poland, African groups withdrew from the negotiations, saying that many countries were not honoring their pledges on cutting carbon dioxide emissions. "It will just be fair for countries to honor their commitments in Lima to avoid a repeat of the Warsaw experience," Njamnshi said.
Agriculture most impacted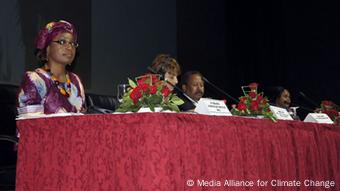 Delegates at the launch of the African Climate Change Fund in Morocco
Africa is highly vulnerable to climate change and suffers from extreme weather conditions such as droughts and floods which in turn lead to poverty, especially among rural populations. In Cameroon, like other countries on the continent, environmental experts say the effects of climate change on health and development efforts are very visible.
"The effects of climate change in Cameroon are very glaring," Njamnshi said. "Some may not call it climate change - the farmers, the peasants may not call it climate change but they are suffering the consequences."
Statistics from the United Nations Economic Commission for Africa (UNECA) show that Africa is home to close to 30% of the world's arable land, and agriculture remains the dominant sector in many African economies, employing 70% of the work force. It also accounts for over 30% of the continent's GDP, generating over 50% of export earnings. Yet it remains the least productive and least invested-in sector. As a result, a third of Africans are malnourished, with climate change placing an additional stress on an already fragile agriculture system.
Climate Fund brings hope
The African Development Bank launched a 33 million euro ($41 million) Africa Climate Change Fund in Marrakesh, Morocco, in October, 2014. Experts describe the initiative as a milestone in the ongoing climate negotiations which will bring some relief to communities affected by climate change and especially help the continent boost its agriculture production.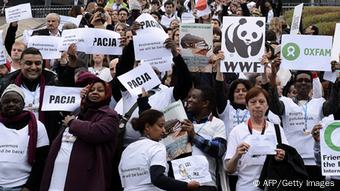 Many NGOs walked out of the 2013 COP meeting in Warsaw in protest at the failure to make progress
The African Development Bank is also participating at the talks in Lima, with the focus on its efforts to address climate-resilient and low-carbon development in Africa. A special Africa Day is scheduled for December 10 and will address the key topic of increasing climate finance access for African countries from regional and global funds.
For the African Group of Negotiators, it is their fervent wish that the existing rifts over who is responsible for harmful carbon dioxide emissions can be bridged, to permit the international community to reach decisions that will also benefit Africa.