Snowflakes gather in a young girl's curly brown hair. Wearing nothing but a jersey, she stares shyly at passers-by. They're rushing along shopping streets that are lit up with Christmas decorations, and they all walk straight past the poster for the United Nations Children's Fund UNICEF. No one stops. No one pauses at the sight.
These images reappear every year: fundraising campaigns for Africa and other crisis regions generally use photos of children. Who hasn't seen the picture of the suffering sub-Saharan African child, its tiny body fragile and emaciated, its tummy bloated with starvation, staring into the camera with big, sad eyes, sometimes in the arms of a film star or some other famous person? Or the laughing children, delighted to be receiving aid in the form of school lessons, seeds, or food?
Christmas time is donation time
Aid organizations repeatedly use the Africa cliches they are actually keen to eradicate. Even the German children's charity Kindernothilfe has succumbed to this iconography — but with a difference. "In our communications campaigns, we depict children who also show strength, who are brave and have personality," says Angelika Böhling, the press spokesperson of the evangelical charity. A few years ago, Kindernothilfe and several other NGOs agreed "that we didn't want to be tearjerkers, and that we would not represent children as victims," she told DW.
Non-governmental organizations need donations in order to help children and people in need, or to support them on the way to living an independent life. It's not easy, Böhling says, to find the balance between a certain degree of emotion and the reality in which these people live.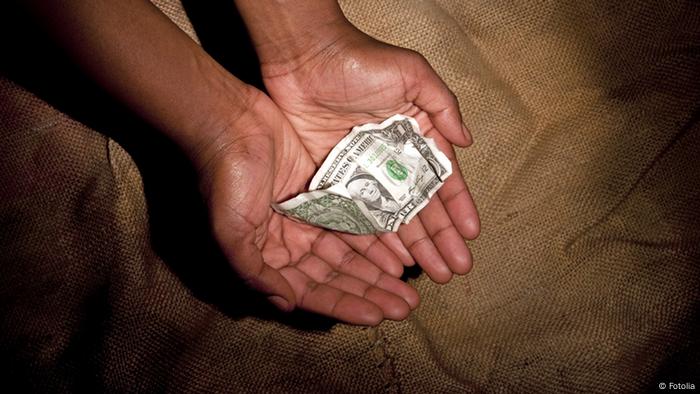 Aid organizations are trying to find new, creative ways of appealing for donations and avoiding cliches
Unsophisticated image of Africa
Commercial videos contribute to how the image of crisis regions in Africa, Asia and the Middle East develop in the mind of the viewer. Africa, for example, becomes a continent of catastrophe, inhabited by a helpless and hopeless population.
Nadja Ofuatey-Alazard is conducting research into racism and minorities in the media at the University of Bayreuth. She is critical of these campaigns, saying that they cement the power relationship between Europe and Africa, established over centuries, and paint a one-dimensional picture of the global South. "Europe is acting today as if it has no divided history with these regions," she says. "It behaves as if it didn't still have hard-core economic and geopolitical interests there, and so is de facto also involved in the creation of structures of poverty and deprivation."
NGOS are competing with commercial enterprises, vying for the attention of potential donors. "For fundraisers, Christmas, when we have a limited advertising budget to invest in a campaign, is not the time for experiments," says Sabine Wilke from CARE Germany. "A fully veiled woman from Yemen doesn't create an emotional connection with the donor." This emotional connection is, she says, the decisive factor in whether or not people make a donation. The organization's website and social media channels relate stories of people who benefit from their help. No voyeurism, no degrading depictions.
Avoiding black-and-white cliches
The German medical aid organization action medeor has broken away from the classic "white doctor helps poor black Africans" stereotype. Its campaign "Help the Helpers" is not focused on the suffering child. Its advert shows a team of European doctors watching a sick child's health deteriorate. The focus is solely on the conversation between the doctors, who are unable to help. "We want to convey the message that we have a situation in which we need help," explains Bernd Pastors, action medeor's board spokesman. "Younger donors ask critical questions; they want transparency, they don't want to be fobbed off any more with the little child trope."
Lorenz Spinas is the creative director and head of the Swiss agency Spinas Civil Voices, which has focused on NGO advertising. He confirms that sensitivity to the use of stereotypes is increasing among aid organizations. Whether on the news or on social media channels, people are regularly exposed to images, he says. "The flood of information has increased to such an extent that people are starting to install filters," Spinas told DW. Shocking images immediately trip the defense mechanisms of those who don't want to see that sort of thing any more. Spinas and his team want to use creative imagery to generate positive stimuli. If people look at a creative image or a symbolic language and "can decode the connection between image and language, it's a moment of happiness for the individual in which he or she is prepared to think about the problem."
A better future
Many donors would like to create a better world. Children work better than adults in these campaigns, Spinas explains, because they symbolize innocence and the future. Projects for children are also a focus in development work. "We avoid pictures that depict suffering, like mutilated limbs or bloated bellies, and try to present the suffering verbally, by putting the recipient in the child's situation. The pictures are then created in people's minds," he said. "That works very well, because the recipient feels independent and not manipulated. Donors then react much more favorably than if we proceeded with the shock method." Successful campaigns, he says, focus on the solution, not the problem.