More than a decade of fighting in Afghanistan has made the battle against the Taliban a backburner story at best in the US. That is despite the fact that insurgents there are maintaining such an intensive campaign against national forces - and the so-called "Islamic State" (IS) is posing a separate threat - that President Barack Obama had to scale back plans to withdraw US troops or risk a complete destabilization. Though Defense Secretary Ash Carter promised Afghans an enduring commitment, is there any guarantee that soon-to-be President Donald Trump will respect this pledge?

A former advisor to NATO's senior civilian representative in Kabul, Afghan Mohammad Shafiq Hamdam, says he's concerned there is a vacuum of interest that can be perceived by the Taliban as room to maneuver. "The absence of Afghanistan [as a topic] during the US 2016 election debates has boosted the resistance of insurgents, and that is very worrying," he said from Virginia, where he and his family were resettled by the US government in 2014.
Hamdam wants the US to stay grounded in Afghanistan in order to cement the gains of the last 15 years. "Emerging threats of Daesh, Russian's aggressive strategy, China's domination vision for the region and Pakistan as a fragile nuclear state and a sponsor of terrorism require a long-term US and NATO presence in the region," he added, using the Arabic acronym for IS. "If the world community abandons Afghanistan, it will turn into a second Iraq and the investment of the last decade will vanish."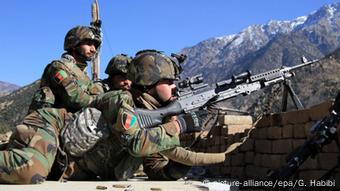 Nicholson says there are 'willing and brave' Afghans who want to defend their country
NATO's commander in Afghanistan, US four-star General John Nicholson, told reporters in Brussels this is his philosophy too, especially given that there are 20 known terrorist groups operating in the region. "If we withdraw from Afghanistan," he said, "it is only a matter of time before these terrorist groups are at our doorstep. We have...very capable and willing and brave Afghan partners who are willing to fight our fight for us - with our help. They want to defend their country; they want to defeat these terrorists."

While Afghans may be relieved to have the international military reinforcements, they're not particularly pleased with their own leaders. Just as NATO foreign ministers were meeting with Afghan Foreign Minister Salahuddin Rabbani at alliance headquarters this week, the Asia Foundation published a survey of almost 13,000 Afghans, showing record-low approval of the government. The report says "only 29.3 percent of Afghans interviewed in September 2016 say the country is moving in the right direction, the lowest level of optimism since the survey began in 2004. A marked rise in civilian casualties and worsening violence has contributed to the highest recorded level of fear in over a decade - 69.8 percent of Afghans are afraid for their personal safety."
That's not the kind of legacy the international community wants to be leaving, obviously, but Hamdam confirms the results are indeed reflective of the national mood. "Since the establishment of the National Unity Government, Afghanistan has been in severe economic, political and security crisis, and it is more fragile than ever," he explained. "The Asia Foundation's annual Survey of the Afghan people truly echoes the issues, concerns, uncertainty, and the reality of the country. Overall, Afghanistan is more prosperous than ever, but these achievements came with a very high price, and it has to be secured." He continues to work with the Afghan Anti-Corruption Network to address some of the problems.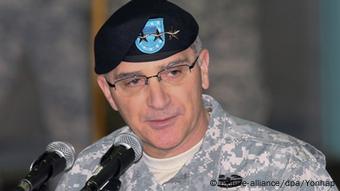 Scaparrotti: 'We've got to continue to reinforce a government that serves the people'
NATO's supreme allied commander, US General Curtis Scaparrotti, who has been deployed in Afghanistan, acknowledges the challenges in public approval, but points out that this doesn't mean they want the Taliban back. "So we've got to continue to reinforce a government that serves the people," he emphasized. "And, actually, I think that's perhaps more important than the military side of this."
He expects things to turn around when the government "begins to have penetration into the provinces that provide service to the people," which Scaparrotti says is not yet "where it needs to be."
Nicholson acknowledges it's difficult to improve general conditions and public opinion when demographic growth is outstripping economic growth, but points to improvements over the last 15 years that he feels are perhaps being overlooked: health care, access to education, and women's access to education and to official positions in the government. "When you look at the life expectancy of Afghans," he said, it's "risen from age 42 to 62...infant mortality has dropped; maternal mortality has dropped."


He said security is improving, and it may not be "today or next month but eventually this will lead to greater stability, which will lead to a greater sense of satisfaction and security in the country."
Nicholson hopes in addition to convincing the US to stay engaged, the Europeans realize they have a lot at stake too. More than 175,000 Afghans applied for asylum in the European Union in 2015, he said, indicating that number could drop if citizens felt safer at home.