More than 100 passengers, including citizens of the United States and several other Western nations, on a Qatar Airways flight from Taliban-controlled Kabul landed in Doha on Thursday.
It was the first time a civilian, international flight departed the Kabul airport since the US withdrawal from Afghanistan last month.
What we know about the flight
"We managed to fly the first plane with passengers just an hour ago," Qatari Foreign Minister Sheikh Mohammed bin Abdulrahman Al-Thani said, thanking the Taliban for helping reopen the airport.
Qatari officials said Thursday that Taliban authorities permitted a flight out of Kabul for passengers who had the proper documents. The officials added that between 100-150 Americans and other Westerners were on the plane and 200 more people would fly out of Afghanistan on Friday.
The German Foreign Ministry said 15 German citizens were on the flight.
The US State Department later said that 10 US citizens and 11 permanent residents were among the passengers.
Thursday's flight was the first commercial flight from Kabul since the airport shuttered with the US withdrawal late last month. The closure marked the end of a frantic airlift conducted by the US and other NATO allies in an effort to evacuate their citizens and Afghan allies at risk of retaliation from the Taliban.
Footage on Doha-based broadcaster Al-Jazeera on Thursday showed people at the airport, including women, children and elderly passengers all with luggage as well as the plane later taking off and then passengers deplaning a few hours later in Doha.
A Canadian man told the Arab satellite network at the Kabul airport that he was grateful to the Qataris.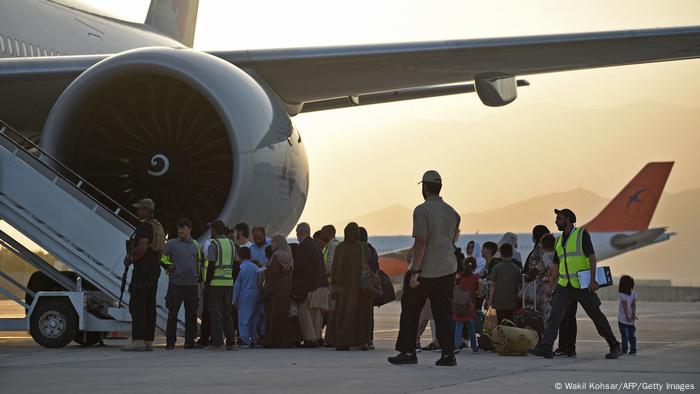 A large group of foreigners were aboard the flight to Doha
US continues efforts to evacuate citizens from Afghanistan
After the plane's arrival in Doha, the White House said communication with the Taliban to organize the fight was "businesslike and professional" and "a positive first step."
While the Taliban have said people could continue to leave Afghanistan after the US withdrawal, in recent days charter flights attempting to depart the northern Afghan city of Mazar-i-Sharif have been held up by the Islamist militant group now in control of the country.
The US had said previously that approximately 100 Americans remain in Kabul, as well as thousands of Afghan allies and their families who did not manage to make it out.
The White House on Thursday approved a plan put forward by the Department of Defense for the US to cooperate with volunteer groups, former US Special Forces and others with knowledge of Afghanistan attempting to evacuate people from the country, Politico reported.
ar/sms (AFP, AP)