Whatever any purist says, it is hard to match the drama of a penalty shootout in football, especially when the hero is the oldest player ever to play in the African Nations Cup.
Egypt's keeper El-Hadary, 44, already has four winner's medals in this competition but he may soon have a fifth around his neck after saving two spotkicks in the shootout to prompt his teammates to mob him in delight like so often before.
It initially did not bode well for the game when the stands were barely half full at kickoff. Indeed, the first 66 minutes matched the general apathy in the sticky Libreville heat - albeit with the Burkina Faso fans constantly beating their drums to create a more pleasant atmosphere.
But suddenly the game sprang to life in the second half thanks to the two standout names in the sides - Mohamed Salah and former Augsburg and Mainz forward Aristide Bance.
Salah gave Egypt the lead out of the blue when Mahmoud Kahraba expertly laid the ball off to him and the Roma winger sent a missile of a shot thundering into the top corner.
But Burkina Faso`s Stallions would not be denied at that point and Bance used all of his immense strength to chest the ball down and cleverly sweep the ball into the near post on 73 minutes.
Egypt's coach Cuper: we played for penalties in the end
Burkina Faso were then the only team who looked like winning it in normal and extra time, and even took an early lead in the shootout when Abdallah El Said fluffed the first kick for Egypt.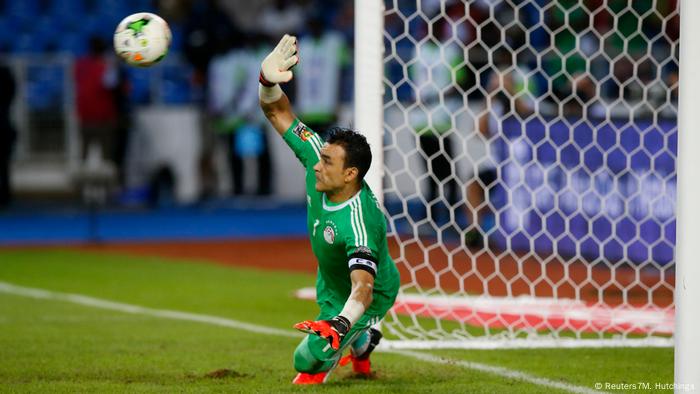 Egypt's veteran keeper denied his opposite number and Bertrand Traore from the spot
But El Hadary had other ideas and saved from fellow keeper Herve Koffi and the generally disappointing Bertrand Traore, Burkina Faso's fourth and fifth shooters.
"Our players were fatigued so we aimed for the penalties because anything could happen there," Egypt coach Hector Cuper admitted to a news conference.
Record seven-times winners Egypt will now meet Cameroon or Ghana in Sunday's final with the second semi taking place in Franceville on Thursday.
Burkina coach Paulo Duarte said: "We should have won because we showed our skills and stamina and determination and we had the opportunities."
Weak attendances in Gabon
With hosts Gabon going out in the group stage, it was only natural that appetite for the tournament would wane among the hosts but organizers would dearly have loved more of them to turn up for the first flagship semifinal.
Opposition figures have questioned why President Ali Bongo has spent so much money on this tournament when Gabon co-hosted the same event only five years ago. They feel money would have been better spent on hospitals and schools.
The calls for a boycott of the tournament may have had some effect on generally weak attendances during the competition, with the 40,000-seater gleaming Chinese-built Stade de L'Amitie looking slightly incongruous compared to the average modest dwelling of a Gabonese.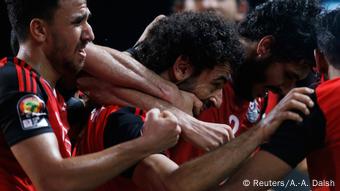 Mohamed Salah put Egypt ahead, making it look briefly like another 1-0 win for the Pharoahs
Luckily for Nations Cup officials, there is a large Burkina Faso diaspora in Gabon and pockets of noisy fans added the joie-de-vivre the occasion needed.
Over 100 supporters had also come from Burkina Faso as part of a government sponsored trip to boost their raucousness and try to roar the Stallions to glory.
The players responded sluggishly early on with Burkina Faso just about edging proceedings until Egypt winger Mahmoud Trezeguet bent a shot just wide after 17 minutes.
Burkina Faso then had their best chance of the first half as Bance sent an overhead kick just over, sparking an audible gasp from the colorfully dressed supporters.
In the second half, the Stallions had a couple of half shouts for a penalty as they gradually took over the game against the lackluster-looking Pharaohs.
Fairytale ending for El Hadary
That was until Salah, quiet otherwise, showed that a world class player only needs one moment to potentially change a game.
It was one of the best goals of the tournament but it turned out not to be decisive, as Burkina Faso's star striker Aristide Bance responded within six minutes of Egypt taking the lead.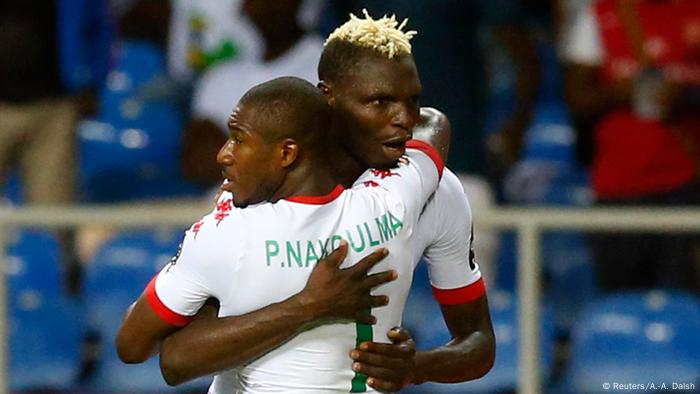 Aristide Bance's equalizer was deserved for Burkina Faso, the more adventurous of the two sides
Bance was born in Ivory Coast and now plays his club football in there but he is massively proud to represent Burkina Faso, where he moved as a child, and proved it with a high intensity display of running and good old fashioned hold-up play.
He got his reward with a trademark goal for the equalizer, although in truth it was poor defending by Egypt. They had been warned with Bance continually showing great ball control with his body throughout the contest.
From there on in only Burkina Faso really tried to win the game, with the wily El Hadary forced to tip over an almost accidental flick from substitute Banou Diawara as time ticked down.
Both sides were too tired and too scared to push in extra time and the penalty shootout was inevitable.
Much like the fairytale ending for El Hadary.