He was the last to arrive and the first to stand before the assembled worldwide press on Thursday: Sergei Lavrov, Russia's foreign minister, announced that, after a day of long negotiations, a breakthrough had been made - one that few had counted upon.
"The Geneva meeting on the situation in Ukraine has agreed to the first concrete steps toward a de-escalation of tensions and restoring security for all citizens," he said.
In a joint statement from leading diplomats from the United States, Russia, Ukraine and the European Union, all parties involved in the conflict were called upon to end violence, intimidation and provocation through concrete measures agreed upon by the four powers.
Moscow jumps in
By noon on the day of negotiations, it had looked as if the short conversations would end without results. Two and a half hours after his arrival, and Lavrov had already announced his final press conference. Then everything changed: Shortly after Russian President Vladimir Putin declared on television from Moscow that negotiations alone - and not tanks - could solve the Ukraine conflict, talks began to move at the Geneva Intercontinental Hotel. In the corridors, members of the various delegations appeared, each holding a piece of paper, appearing excited as they talked in their cell phones.
The foreign ministers could not, however, bring themselves to convene a joint press conference. Instead, Lavrov stole the show, dashing to the microphone ahead of US Secretary of State John Kerry or the EU's top diplomat, Catherine Ashton. He read the group of four's joint statement and, in his closing comments, made it unequivocally clear that they remained far from a solution to the conflict. He accused Kyiv of deploying troops against its own people and reiterated Moscow's argument that the rights of the Russian-speaking population were under severe threat in Ukraine.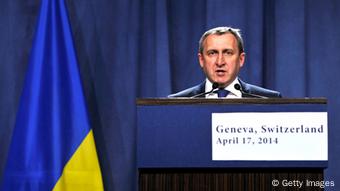 Andriy Deshchytsia strikes back
Disagreements remain
Lavrov's Ukrainian counterpart, Andriy Deshchytsia, responded no less forcefully. Despite an agreement on initial steps to de-escalate the situation, Kyiv and Moscow had not come significantly closer on major issues.
"Over the course of the meeting, we argued with Russia about where the root causes of the conflict are to be sought," said Ukraine's acting foreign minister. "We also didn't agree when it comes to Russian interference in eastern Ukraine and the territorial integrity of Ukraine, including Crimea."
The next few days will test the true value of the Geneva declaration. The plan is predicated upon quick implementation. Now the hope is to see quick action, said America's secretary of state.
"We wanted to find concrete steps, not just words, but concrete steps that could be acted on immediately in order to diffuse the situation.
Disarming protestors
For the moment, further sanctions against Russia seem to have been averted. But Russia is now under pressure to demonstrate how seriously it takes a settlement of the conflict without the use of military means. And Kyiv has to prove its own desire to ease tensions and, to that end, disarm the Maidan protestors.
"This is a very sensitive issue," said Deshchytsia. "But the question of safety is more important. It is very important that those in possession of weapons turn to peaceful forms of protest."
From Washington, meanwhile, has already come the first dampening of too much optimism. US President Barack Obama claims to be skeptical that Russia will actually keep to its agreement. Moscow's recent behavior makes it seem unlikely, the president said.