At the end of an informal meeting of foreign ministers from the Association of South East Asian Nations ASEAN in Jakarta, it was announced that Indonesia, as the current chair of ASEAN, is expected shortly to send an observing team to both sides of the Thai-Cambodian border. The unarmed observers consisting of both civilian and military personnel will then report to ASEAN and the UN Security Council. Moreover, Thailand and Cambodia, which have both accused each other of starting the clashes around the Hindu temple of Preah Vihear, will also involve Indonesia in future bilateral talks. Bangkok had previously resisted Cambodian calls for third-party mediation.
ASEAN's Director General, Djauhari Oratmangun, is satisfied with the progress, calling it a historical step that the organization has never been seen before. He said further, "everyone agrees that in order to reach the goal of an ASEAN Community by 2015, ASEAN has to show the international world that if there is a big conflict between two ASEAN countries, then ASEAN can solve the problem. This is amazing."
ASEAN Community in 2015
ASEAN member countries are hoping to build a European Union-like community by 2015. The ASEAN charter, signed in 2008, also gives a greater role to the foreign ministers and obliges members to solve conflicts without violence.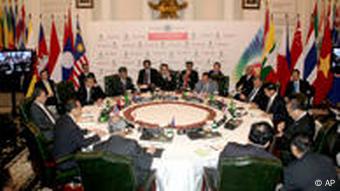 The ministers agreed that an observation team will monitor the ceasefire close to the temple Preah Vihear
Cambodia had previously taken the conflict over the 900-year-old temple to the UN Security Council, which asked for ASEAN's participation in solving the problem. ASEAN has been criticized for doing too little to resolve regional disputes. So far, member countries have chosen to solve disputes through bilateral talks or by taking them to international institutions, such as the International Court in Den Haag.
Solving problem on the regional level
Howard Loewen from the German foreign policy think tank, SWP, welcomes ASEAN's change of mind. It's a sign that the members are ready for the community in 2015, he says. The Southeast Asian expert said conflicts are avoided as a consequence of the countries cooperating more closely in economic, political and security terms."And if there is a conflict like now between Thailand and Cambodia, it is all the more important that they have a way to resolve that conflict," said Lowen further.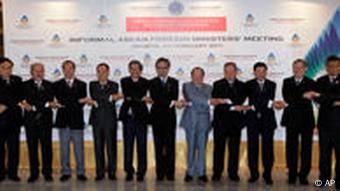 Everyone is eager to reach the goal of ASEAN Community in 2015
Bandarto Bandoro, a political scientist from the University of Indonesia, sees a big challenge for the organization, which has now been around for over 40 years. He said that it is very important for ASEAN to maintain solidarity and that countries should not hide behind their own sovereignty when something happens where ASEAN has to interfere. He fears that the unity between the countries might be destroyed, if there is a conflict that ASEAN is not able to solve. "Our challenge is to find a way to maintain the harmony during a case that has to be solved in a short time," he said further. Bandoro thinks the Thai-Cambodian conflict is a good test for the new ASEAN Community.
Author: Anggatira Gollmer
Editor: Sarah Berning