Angela Merkel's sartorial transformation is nothing short of breathtaking. Once ridiculed by society mavens for her dowdy dress sense, Merkel has now managed to silence even those critics with her latest turn as a fashion muse for German designer, Wolfgang Joop.
Joop was apparently so taken with Merkel's image change that he has dedicated a clothing line from his new fall/winter collection to her.
"The open, clear and steely strength in Angela Merkel's eyes inspired me," Joop told the German tabloid Bild.
Strength is in
He added that her "strong and fearless" style was representative of a change in the fashion zeitgeist.
"The days of tra la la and garden parties are over," the designer declared. "The new practicality is in."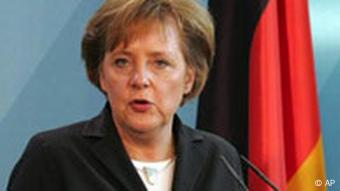 Merkel's style is "strong and fearless," says Joop. But will women want to buy it?
A sketch for the new "Merkel Collection" shows the chancellor in a business-like pose, wearing a dark tailored suit with cropped pants. According to Joop, it's a style that will appeal to the "worldly woman."
"It's not a style that everyone will like," he told Bild. "But if you try to please everyone, you end up pleasing no one."
There's been no word yet on whether Chancellor Merkel herself is pleased with her new role as a fashion icon. Nor, for that matter, on whether she is even a fan of Joop's clothing.
She did once pay a visit to his atelier, the designer said, but not to buy haute couture. Rather, Merkel was all business, trying to win Joop as an "ambassador" for Germany.
Little did she know that this very dedication to the task at hand would be the inspiration that would propel her personal style onto fashion runways the world over.