In politics, image is everything. And in the run-up to the Sept. 18 general election, even the famously non-flamboyant conservative leader Angela Merkel took this message to heart, trading in her wash 'n' go pudding bowl hairstyle for a softer, more stylish look. Flattering make-up and the addition of brighter, more fitted suits to her wardrobe completed Merkel's transformation from "Kohl's girl" to "Angie."
But Merkel didn't do it alone. The question is, which top German stylist should take the credit for her makeover? Martina Acht, a hairdresser whose salon is in the western city of Offenbach, told Reuters that her influence was decisive.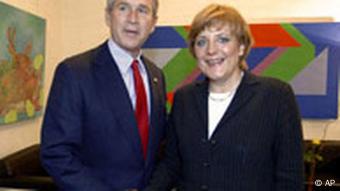 The transformation was already pronounced when Merkel met with US President George W. Bush
"She came to me for advice just before (US President) George W. Bush came to Germany (in February) and ever since then, her look has been completely different," Acht said.
"Since then, she seems so much more feminine," she added.
But celebrity hairdresser Udo Walz, whose swanky Berlin salon is frequented by models and politicians alike, begs to differ. Walz said that he has been working on Merkel's hair for a long time and that she has an appointment with him every four weeks.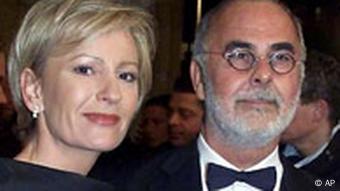 Celebrity hairdresser Udo Walz (right), pictured here with talkshow host Sabine Christiansen, says Merkel is his client
"Martina Acht might have used a blow-dryer on my client's hair, but she did not cut it," Walz said, laying down the gauntlet in a battle of the scissors that has gleefully been picked up by the German tabloids. "There are always people around who want to jump on the bandwagon."
Walz is also closely acquainted with the hair of the man currently battling Merkel for the office of chancellor -- incumbent Gerhard Schröder. In a 2002 court challenge against a German news agency that said Schröder dyed his hair black, Walz played the role of key witness. He testified that, despite his youthful appearance, the 61-year-old Schröder does have some grey hairs, but that they are only visible at close range.