SANA attempts to show an alternative view of what life is like in Syria's government-controlled areas - cities like Damascus and Tartus. The agency's English-language Twitter account provides a look into aspects of Syrian cultural life among young people. It also provides coverage of President Bashar al-Assad's government.
SANA was established in 1965, and according to its website, it "provides full coverage of local, Arab and international events based on an objective approach." It is headquartered in the country's capital, Damascus, and considers itself to be one of the "most pioneering news websites in Syria."
'I love Damascus'
One of the most recent events promoted on Twitter by the agency is a marathon called "I love Damascus." The event featured balloons, music and colored powder, and was meant to celebrate the Syrian Army's participation in the "Tishreen Liberation War" of October 1973 - also known as the Yom Kippur War. The war began with Syria and Egypt launching a surprise offensive against Israel - both Syria and Egypt celebrate this surprise offensive as a moment for national pride.
Nightlife
SANA also shows the nightlife and summer beach culture of Tartus, a government-controlled city located on Syria's Mediterranean coast - a popular vacation spot for many Syrians. It is also known for hosting a Russian naval base - one of the reasons Russia intervened in the war in Syria was to protect this facility.
This video shows the nightlife this past summer in another Syrian city - Aleppo. Aleppo right now faces shelling and a humanitarian aid crisis, as the Syrian government and rebel groups wage war against one another to try and take control of the country's second-largest city.
Mission
Although the SANA news agency aims to show these alternative aspects of Syrian life, when it comes to hard politics, the agency has a clear agenda. According to SANA's English website, the agency "adopts Syria's national firm stances and its support to the Arab and Islamic causes and principles with the aim of presenting the real civilized image of Syria."
The agency does not use the word "rebels" to describe opposition groups, but rather labels them "terrorists." SANA is also critical of the United States and other Western powers - especially those countries who want to see regime change in Syria. It also boasts of the strong relationship between the Assad government and Russian President Vladimir Putin. Last but not least, it often attempts to criticize Turkey's President Recep Tayyip Erdogan, who has pushed for an end to the Assad regime by financially supporting opposition groups.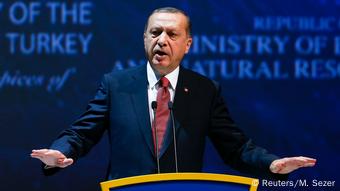 Erdogan is often a target of the Syrian media
The Syrian civil war began in 2011, with mass protests calling for Assad's ouster. Since then, the Syrian government has been engaged in fighting rebel groups across the country - the conflict has left hundreds of thousands dead and millions displaced. SANA, being a public news agency, has a stake in the conflict to support Assad's government.