In private, just like on the football pitch, Tareq Hindawi comes across as a determined young man.
"There are players who have refused to represent the national team for the time being because they believe they represent a certain side," says Hindawi. "But I disagree with their position. We represent our flag and our allegiance is towards this country. We play to carve a smile onto the lips of every Syrian supporter."
Hindawi, 19, is a proud Syrian and captain of his country's under-20 team. He has played almost the entirety of his young career at Al Ittihad, one of Syria's biggest clubs located in one of the country's most dangerous cities, Aleppo.
Tareq began playing for the club's youth teams at the age of nine and steadily progressed through its ranks before making his breakthrough for Al Ittihad's first team. During the 2010/2011 season, as a teenager, he made his first-team debut for the club he long supported. He started the game playing in defensive midfield and delivered a performance that was good enough for him to get selected for his country's under-15 national team.
"I was just so happy," Tareq recalls fondly. Tareq played regularly throughout the season, helping Al Ittihad to a fifth-placed finish, just four points away from champions Al Shorta.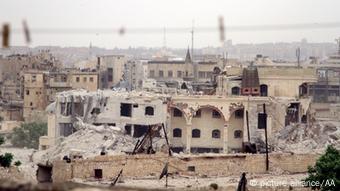 Playing football in Aleppo is low down on the priority list these days, people have to rebuild their homes first
And then came the war
But, on March 9, 2011, things changed. In the Syrian city of Daraa, a group of students painted a slogan criticizing their government, led by the Assad family, who have ruled the nation for decades. The regime didn't react too kindly to this act of defiance; incarcerating all 15 children.
The people of Daraa were left furious and irate. Led by the city's Imam, Shaikh Ahmad Siyasna, protests broke out over a week later at the now-famous Al Omari Mosque after Friday prayers on March 18. The day would mark the beginning of the Syrian Revolution.
Fast forward three and a half years, and the civil war in Syria - between armed opposition groups and government forces - is still ongoing today. The UN estimates that nearly 200,000 people have since died in the fighting, hundreds of thousands of refugees are on the run.
As the conflict between the two sides picked up in 2011 and 2012, all aspects of Syrian society became affected, including football. Many professional players left the country, for their own safety or even in protest. Firas Al-Khatib - regarded as one of the finest footballers Syria has ever produced - refused to represent the Syrian national team. He now plays in Qatar, with the Al Arabi club.
'Players killed during matches'
Syrian league matches these days are often devoid of supporters. It's no surprise, considering that most of the country is still in turmoil. People have got other, more pressing, things to worry about, it seems. Still, formerly successful Syrian clubs and the Syrian Football Association are now battling financial troubles, and huge infrastructural damage.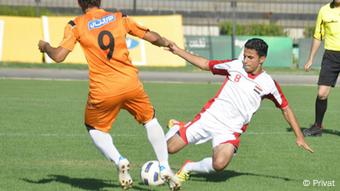 Tareq Hindawi (right) goes in for a tackle
According to Syrian football expert, Mohammed Nasser, over 200 players have now left the country, with the most popular destination being Iraq. Because of this it's very difficult to bring them all together for basic training, like a national team camp, he says.
"During the first year of the revolution, the sport went into a decline amidst the destruction," he explains. "By its second year, though, we Syrian people adapted to the ongoing events and circumstances."
Nasser explains that although there have been some highlights, like the Syrian national team's triumph at the West Asian Football Championship in 2012, conditions for players and football fans have gotten much worse over the last few years.
"Even some players were killed during matches," he says. "The league has once again resumed and we try to bring in as many supporters to the stadiums as possible because sport is the only thing that lightens the hearts of us Syrians amidst this crisis."
No team is worse affected at the moment than Al Ittihad in Aleppo. The team has been playing mainly with their third-string side in the top league and are struggling to keep pace.
"Al Ittihad has a supporter base of about 75,000 fans, but only just a small handful currently attend the club's matches because of what the country is going through," Tareq Hindawi says dejectedly.
"It felt so bewildering playing in a great stadium like Aleppo International and in front of our huge sets of supporters cheering us on," the young player says. "But things have gotten worse since. When I watch old clips of Al Ittihad before the war and see the fans attendance, I just feel disappointed and despondent."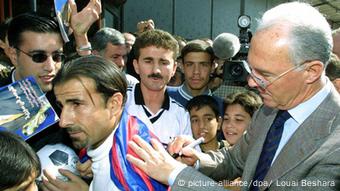 Happier days: Former World Cup winner Franz Beckenbauer visits a club game in Damascus in 2001
Abandoned clubs
Because of the dire situation Aleppo has been facing, Tareq Hindawi has signed on loan this upcoming season with Al Majd, the team he faced on his Syrian first division debut. Al Majd are located in the capital Damascus, far away from the most dangerous fighting in the ongoing war. Tareq has been forced to stay in the capital for the past five months and hasn't seen his family in Aleppo since.
Still, the 19-year-old young man, with a stocky but athletic build, says he feels optimistic and upbeat about the current season. He is looking forward to winning a domestic title with his new club, he says. His optimism and upbeat mood is shared by his teammate, veteran Syrian international Raja Rafe.
"Tareq is a strong and smart holding-midfield player with a bright future ahead of him," Raja says, who recently returned from a stint in neighboring Iraq. "I am glad that he's a part of our team here with Al Majd."
Despite residing safely away in the capital with his new club, Tareq hasn't forgotten about his family, his old team and the supporters struggling away in his hometown of Aleppo.
"Al Ittihad is a big club that is sick, but it will never die and, Inshallah, it will return to what it once was," he said.
"I wish for the return of security and safety to my beloved nation and despite all that we've gone through, I have high hopes for Syrian football."