In the international media, the violence in Nigeria's North is often described as a conflict between Muslim and the Christian communities. In recent months, a number of religious leaders have spoken out and denied that the religion is triggering the clashes. Instead, they blame economic and political factors for the increasing levels of violence.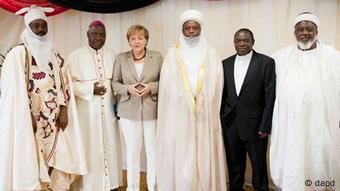 Archbishop Kaigama (second left) with German chancellor Angela Merkel.
Ignatius Kaigama is the Catholic Archbishop of Jos. The city has made headlines as one of the hotspots of the violence in recent years. Kaigama has played an active role in mediation efforts between warring parties.

Last Monday local media reported that a Christian mob killed six Muslim youth in a revenge attack. On the weekend, a suicide bomber had hit a church in Jos while gunmen opened fire at churchgoers in Borno State.

DW spoke to Archbishop Kaigama about the motives behind the violence and the role religious organizations could play in resolving the conflict.
Interview: Mark Caldwell
Editor: Daniel Pelz