Four civilians were killed in eastern Ukraine, local authorities said Saturday ahead of the Eurovision grand final in capital, Kyiv.
Ukrainian authorities blamed pro-Russia separatists for an artillery attack on the government-held industrial town of Avdiyivka. Shelling has continued in eastern Ukraine despite a ceasefire agreement signed in February 2015 in Minsk.
"A shell hit the courtyard of a private house. Three women and one man perished," Pavlo Zhebrivsky, head of the Ukraine-controlled Donetsk regional administration, said on Facebook, adding that another man with serious wounds had been taken to hospital.
Avdiyivka is a heavily-shelled flashpoint suburb of the separatists' de facto capital city of Donetsk.
The Ukrainian military said rebels had used artillery banned under the terms of the Minsk peace deal in the attack.
Rebel forces did not respond to the accusations, but a news agency linked to the separatists said two civilians on its side of the front line were wounded on Saturday.
Poroshenko cancels appearance at ESC final
The attack happened just hours before the Eurovision Song Contest finale kicked off about 600 kilometers (370 miles) away in Kyiv, with 20,000 foreign tourists expected to descend on the city.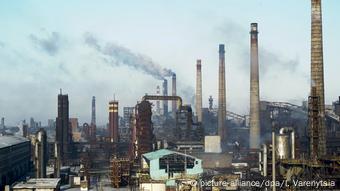 The attack hit near the industrial town of Avdiyivka
Ukrainian President Petro Poroshenko cancelled his appearance at the event following the attack.
Poroshenko said he was planning "to be at the contest final with [my wife] Marina and invited our fighters and people with disabilities to support Ukraine."
"However due to the shelling of Avdiivka and the death of peaceful civilians, I took a decision to cancel my presence at the Eurovision final," he wrote on Facebook.
Police officers patrolled the event with semi-automatic machine guns and camouflaged police vans on the streets.
Russia was excluded from this year's Eurovision following a travel ban on their contestant, after she toured in annexed Crimea. Russia is normally a heavy hitter in the competition: it is tied with Sweden for the most top-five finishes this century.
In response, Russia's state-owned Channel 1 television refused to broadcast the contest, replacing Saturday's final with a screening of the film "Alien."
The latest attack brings the death toll for Ukrainian soldiers and civilians to 14 this month. More than 10,000 people have died in the three-year Russia-backed rebellion.
aw/cmk (Reuters, AFP)