"The state of the world's refugees," the latest report by the United Nations High Commission for Refugees (UNHCR) covers the period between 2006 and 2011. According to its findings, some 26 million people are currently internally displaced, whereas there are between 15 and 16 million refugees who have been forced out of their countries by conflict and natural disasters.

The Internal Displacement Monitoring Centre (IDMC), an international migration research organization, defines internally displaced persons as those who have been forced or obliged to flee or leave their homes or places of habitual residence to avoid for example the effects of armed conflict, human rights violations or natural calamities. However, unlike refugees they do not cross international borders.

The UN report says that 80 percent of refugees worldwide live in developing countries. There are 1.7 million Afghans in Pakistan, one million Afghans in Iran and hundreds of thousands in Africa.
Driven out by conflict
Almost a third of displaced persons live in Asia. Apart from Afghanistan, most of them last year were from Myanmar, Nepal, Pakistan, the Philippines and Sri Lanka, where they had been forced out of their homes because of conflict.

Thailand and Cambodia were also affected by the decade-long border dispute that has been going on between the two countries. Ethnic strife, communal violence and clan fights were the main reason for people fleeing their villages in Bangladesh, India, Indonesia and Timor-Leste.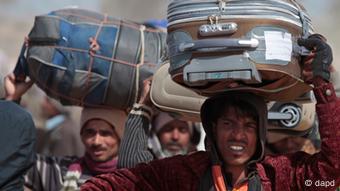 Crisis has thrown many people out of their homes


However, the UNHCR also points out in its report that last year Asia handled record numbers of internally displaced persons returning to their homes, especially in Sri Lanka and Kyrgyzstan. Even Afghanistan saw 46,000 nationals return to their homes, despite a sharp decline in regional security.

Multiple challenges

Although the figures from the IDMC confirm this trend, saying that refugee numbers declined over the past few years South and Southeast Asia, with roughly 4.3 million people being displaced in 2011 compared to 4.6 million in 2005, the UN report predicts a massive increase in refugees by the end of this decade.

With the global population set to reach 10 billion, observers say Asian and African countries face multiple challenges to deal with growing urban populations and political problems, and to put in place effective disaster management systems.
mg/gl