World War II dramas starring Robert De Niro and George Clooney will lead the line-up at the 57th Berlin International Film Festival next month, organizers said Thursday.
"We are delighted to be able to present a number of new works by renowned directors and interesting young filmmakers again," festival director Dieter Kosslick said in a statement. "Many of the productions selected for this year's competition link modern historical processes to personal, intimate and extremely emotional stories."
De Niro will come to the German capital with "The Good Shepherd," the tale of an idealistic Yale graduate recruited by US intelligence in the 1940s. The film marks De Niro's second outing as a director and also stars Matt Damon and Angelina Jolie.
In Steven Soderbergh's "The Good German," Clooney plays a US journalist who becomes embroiled in a murder conspiracy in postwar Berlin. In this black-and-white film, Soderbergh has created an homage to the cinema of the 1940s, combining historical archive material with newly filmed scenes using equipment from that era. It also stars Cate Blanchett and Toby Maguire.
European films will also make their mark
Films by European directors will also play a central role in the competition. Oscar-winning Danish director Bille August will unveil "Goodbye Bafana," based on the true story of James Gregory. Joseph Fiennes plays the white South African prison guard whose life is transformed when he meets Nelson Mandela and ends up guarding him for more than 20 years.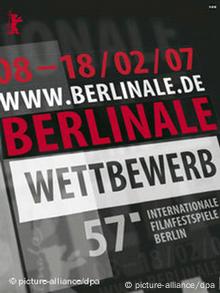 The poster for the 57th Berlinale
British singer and actress Marianne Faithfull will appear in the Belgian-German-British competition entry "Irina Palm" as a down-on-her-luck widow forced to take a job in a sex club.
German director Christian Petzold -- who scored a local hit in 2005 with "Ghosts" -- will join the competition with "Yella" about a young woman from the former East Germany who tries to escape her unhappy life by taking a job in the west. But her old life keeps catching up with her.
South Korean entry features pop star
This year's first Asian entry to the Berlinale is "I'm A Cyborg But That's OK" by South Korean filmmaker Park Chan-wook. In a psychiatric hospital, a young woman who thinks she is a cyborg falls in love. The cast includes Korean superstar Rain, who is also very successful as a pop star.
The final selection for the competition will be completed by mid-January.
The Berlinale will run from Feb. 8 to 18. It ranks just below Cannes and alongside Venice among Europe's premier film festivals. More than 19,000 film professionals from 120 countries are accredited for the event every year.