World War I drama 1917 has won the award for best film at the British Academy of Film and Television Arts awards (BAFTAs), with director Sam Mendes picking up honors for best director at Sunday's glamorous ceremony in London.
The immersive war epic, based on the wartime experiences of Mendes' grandfather, also picked up five further awards making it the big winner of the night, beating off US contenders Joker, The Irishman and Once Upon a Time in Hollywood.
Read more: Oscars: The winning factors to land among the best films
The film tells the story of two British soldiers on a perilous mission across no man's land to try to avert a suicidal offensive, and shot in long, uninterrupted takes, the film was also honored for its cinematography and production design, sound and visual effects.
Joaquin Phoenix was named best actor for Joker, and Renee Zellweger took home the best actress prize for the Judy Garland biopic Judy.
The British awards are often seen as a forerunner to Hollywood's Academy Awards, which will be held this year on February 9.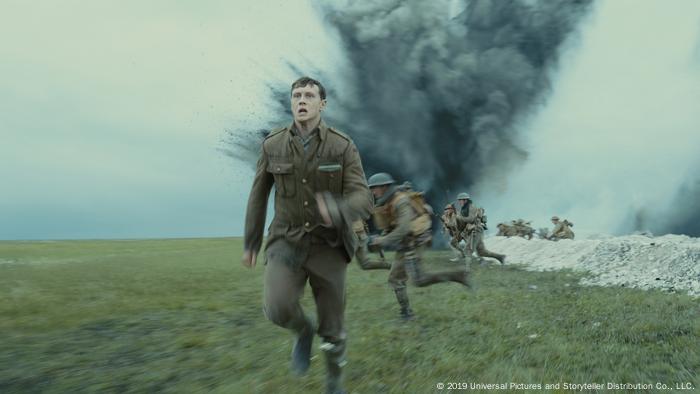 '1917' also took home awards for cinematography, production design, sound and visual effects
Lack of diversity?
A lack of diversity dominated discussion ahead of the BAFTAs. The rising star award, the one trophy decided by the public, went to black British actor Micheal Ward, but awards organizers called it "disappointing'' that there were no performers of color among the acting nominees.
Nominees for the BAFTAs are chosen by 6,500 academy members who work in the UK and international film industry.
British star Cynthia Erivo, who is Oscar-nominated for her performance as abolitionist Harriet Tubman in Harriet but who was ignored by the BAFTAs, declined an invitation to perform at Sunday's award ceremony in protest.
kmm/cmk (AFP, Reuters, AP)
DW sends newsletterout a daily selection of hard news and quality feature journalism. Sign up here.