According to UNESCO's 2017-18 Global Education Monitoring Report, an additional $39 billion (€33 billion) per year would improve the quality of the world's schools and give the world's 2.2 billion children equal access to learning.
Researchers found that there is a long way to go toward reaching the UN's sustainable development goal of ensuring that all children have access to a free, quality secondary education. Right now, only 83 percent of the children who go to school at all complete elementary school, and just 45 percent of students aged 15 to 17 will finish secondary school.
The report found that the number of boys and girls who are denied access to education is up 1 million from 2016 — to 264 million.
"Education is a shared responsibility between us all: governments, schools, teachers, parents and private actors," UNESCO Director-General Irina Bokova said in a statement to announce the study's findings. "Accountability for these responsibilities defines the way teachers teach, students learn and governments act. It must be designed with care and with the principles of equity, inclusion and quality in mind."
Wealth, gender gaps
The report's authors focuse on accountability and caution against finger-pointing when assigning blame for children's lack of a good education: "Don't just blame the teacher when the system is at fault."
The gap between rich and poor children is a persistent problem. The richest 3- and 4-year-olds are five times more likely to receive early childhood education than the poorest kids in their age group.
Many girls, especially in developing countries, can't go to school at all. Only 66 percent of countries have reached gender parity in access to elementary education.
"In sub-Saharan Africa, girls are particularly disadvantaged," Walter Hirche, the chairman of UNESCO Germany's expert committee on education, told DW. "Countries where the situation is generally bad are India, Pakistan and Indonesia in Asia, as well as Nigeria and Ethiopia in Africa."
'It's important'
The report calls for governments to face consequences when their schools fail children. In 45 percent of countries, access to education is not even enshrined in the official legal code or constitution.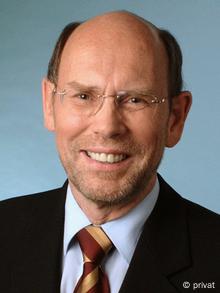 Hirche: improving education is not a short-term project
"I believe it's important that we create preconditions now that'll enable long-term changes," Hirche said. "Politicians often only have a time horizon of three to five years, up until the next election. But changes in the education system need to be considered with intergenerational justice in mind."
UNESCO's researchers praised the important role that citizens, civil society organizers and grass roots activists play in education. Many are school-aged themselves or have children who are, so they know what the real problems are and can call — and, if necessary, fight — for changes.
Increased transparency
The report's authors call for more transparency to improve the situation for children across the world. Only one in six governments releases annual education monitoring reports. Without clear figures it is impossible to see how much progress has been made toward providing all children with quality education.
Hirche said international organizations such as the World Bank and national governments like Germany's should take a close look at the development aid they pay out to ensure that the money is not only going into short-term projects, and in fact supports sustained improvements.
After all, Hirche said, "the connection between reaching higher levels of education and fighting poverty is unambiguous."