"We accept that we have made mistakes," Zuma, told ANC supporters during the African National Congress (ANC) 105th birthday celebration that took place in a stadium in the Soweto township on Sunday. "When leaders and members of the ANC are corrupt and steal they are betraying the values of the ANC, the people and our country. We will not allow this," he added.
The past two years have been tough for South Africa's largest party, which has built its reputation around its role in the anti-Apartheid struggle and the legacy of its former leader Nelson Mandela. Amidst student protests and strikes by the mining unions, the ANC leadership has been embroiled in multiple scandals including the use of state money to make luxury improvements on Zuma's private home in Nklandla. At the same time South Africa's public protector launched an investigation into the role of an Indian business family, the Guptas, in influencing the appointment of government posts.
In August South Africa's ruling party saw its lowest election results to date in local elections. The party lost control of major metropolitan areas like the capital Pretoria and Cape Town to the main opposition party the Democratic Alliance (DA).
Although Zuma himself has repeatedly rejected calls from the opposition as well as his own party members to step down, it is clear that his term is coming to an end. In December 2017, he plans to step down as party leader as the country prepares for presidential elections in 2019. In Sunday's speech, Zuma made a last effort to unite party members.
"The ANC will elect a new national leadership towards the end of the year," Zuma said. "Too often, comrades fight for leadership positions as they see leadership as the route to material and personal gain." He went on to say that instead of infighting, the ANC should rather focus on the common enemies which he said were unemployment, poverty and inequality.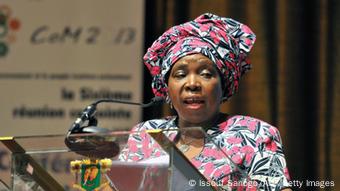 Dlamini-Zuma is viewed as Zuma's possible successor
Time for a woman?
In the question of who will succeed Zuma and will ultimately become the ANC's presidential candidate for 2019, African Union Commission chairperson Nkosazana Dlamini-Zuma and South Africa's vice president Cyril Ramaphosa are seen as the main contenders.
While neither of them has declared their intention to run for the post, the powerful ANC Women's League on Saturday pledged their support to Dlamini-Zuma. "We've been saying we want a woman president, we want a woman president and therefore yesterday we had to define what we want and the most suitable candidate and face of our campaign was comrade Nkosazana Dlamini-Zuma," explained ANC Women's League president Bathabile Dlamini.
Dlamini-Zuma formerly held the post of South Africa's health minister, foreign minister and home affairs minister in both the Mbeki and Zuma administrations, before becoming the first female head of the AU. She is also President Zuma's ex-wife.
so/jm (AFP/Reuters)