Many thousands of demonstrators gathered in the Yemeni capital of Sanaa on Monday to protest "three years of aggression" by Saudi Arabia against Houthi rebel targets in the country.
The Shiite rebels, allegedly backed by Iran, have controlled the capital since driving out President Abed Rabbo Mansour Hadi in 2014. Their forces also hold the north of Yemen and the country's largest port.
Saudi Arabia and its allies launched an intense bombing campaign in an attempt to return Hadi to power on March 26, 2015. Some 10,000 people have been killed since the airstrikes started.
On Monday, high-ranking rebel leader Saleh al-Sammad told the crowd the fighting was about "restoring sovereignty."
He also praised Houthi forces for firing several missiles against the targets in Saudi Arabia on Sunday.
"Stop your raids, then we stop our rockets," he said.
Separately, rebel representative Ibtisam al-Mutawakel told the AFP news agency the missiles were a "message" to the Saudi "enemy."
'American' Saudi bombing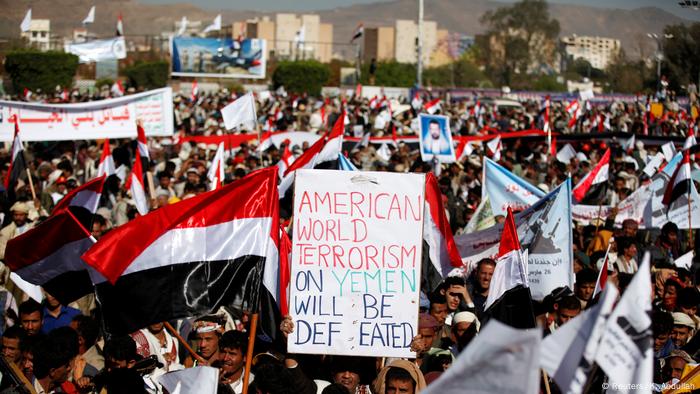 Rebels blame the US for backing the Saudi campaign against targets in Yemen
Al-Sammad also pointed at Washington's support of the Saudi-led campaign, including weapons, information, and aerial refuelling.
"It is the Americans who are directing this aggression, and participating directly on a number of fronts," al-Sammad told the rally at Sanaa's Sabaeen Square. The rebel leader also cited the recent vote in the US Senate, when lawmakers rejected a bipartisan effort to end US involvement in the war.
"The position of the Senate proves that this was an American aggression from the first shot," al-Sammad said.
However, al-Sammad also said the rebels were "ready to reach an understanding." He urged Saudi Arabia and United Arab Emirates to "seize the opportunity" for peace after the new UN envoy Martin Griffiths arrived to the country during the weekend.
Read more: Saudi Prince Mohammed bin Salman 'can end Yemen conflict'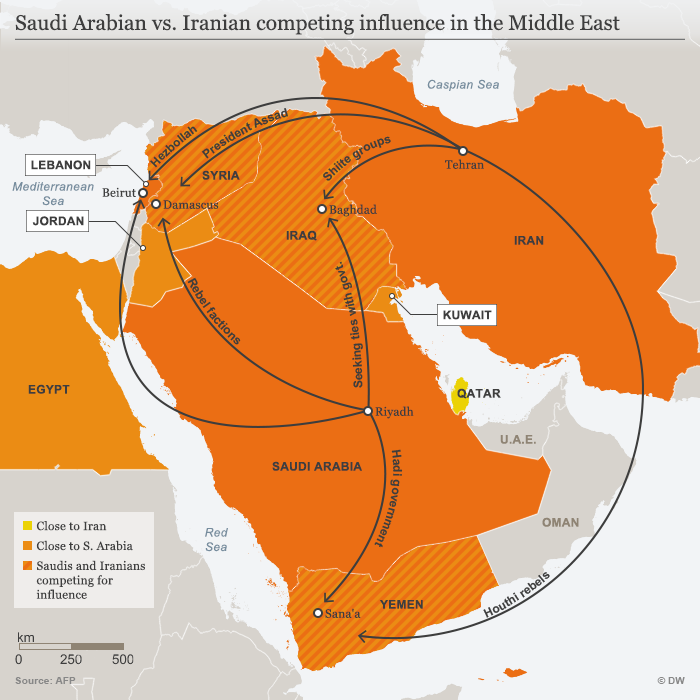 Riyadh blames Iran
Hours earlier, Saudi Arabia said its army intercepted a missile over Riyadh, but added that shrapnel from the destroyed projectile killed an Egyptian citizen and injured two people on the ground. The Saudi leadership used the event to slam its archrival Iran for supplying weapons to the rebels.
"This aggressive and hostile action by the Iran-backed Houthi group proves that the Iranian regime continues to support the armed group with military capabilities," coalition spokesman Turki al-Malki said.
The US has condemned the attack on Riyadh in a Monday statement.
The UN has repeatedly warned over massive civilian suffering in impoverished Yemen.
dj/rt (AFP, dpa)
Every evening at 1830 UTC, DW's editors send out a selection of the day's hard news and quality feature journalism. You can sign up to receive it directly here.