While expressing confidence in the future of the US economy, Janet Yellen, chair of the Federal Reserve, reiterated on Tuesday's the central bank's recently reticent course of gradual interest rate hikes.
In prepared remarks before the Economic Club of New York, Yellen said she expected global economic struggles - involving slow growth, cheap oil and shaky stocks - to only have a limited effect on the US.
But she stressed that this assessment was subject to "considerable uncertainty" and that the Fed would therefore "proceed cautiously" with its monetary policy.
"We have to take into account the potential fallout from recent global economic and financial developments," she said.
'Too early to tell'
After raising interest rates from near-zero in December - the first time in nearly a decade - and forecasting four more hikes in 2016, the Fed decided on a more modest approach during its March meeting. It revised its plans, expecting only two tax hikes this year.
Some good news on the US economy as of late has given some policymakers reason to call for more. Fourth-quarter growth was stronger than expected.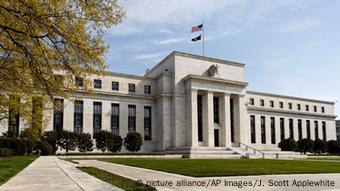 Federal Reserve building in Washington, DC
But consumer spending and inflation figures have been sluggish, making the case for restraint.
In her first speech since the Fed's March meeting, Yellen sided Tuesday with the latter approach. It is "too early to tell if inflation has picked up," she said.
The next meeting of the Fed will be held in late April.
jtm/ tko (AFP, Reuters)