A lake glitters in the sunshine; there is a small farm on its bank. It was this idyllic, remote setting which drew author Hans Fallada, born 118 years ago this week, to Carwitz in north-eastern Germany. In 1933, he left Berlin and moved to the outskirts of the small, rural village.
"After the international success of his book 'Little Man, What Now?' Fallada was in a position in 1933 to fulfill his longtime dream of having his own farm. He had been trained as a farmer," explained Stefan Knüppel, director of the Fallada Museum in Carwitz.
The museum, which was set up in 1995 in Fallada's former house, contains the dark, heavy desk where the author composed most of his novels. The 11 years he spent in Carwitz were the most stable period in his life. Here, far away from the big capital city, he was better able to keep his drug addiction under control.
"I'm not aware of Fallada consuming morphine here in Carwitz - except perhaps in his last months, although his other addictions were present here," said Knüppel.
Revival abroad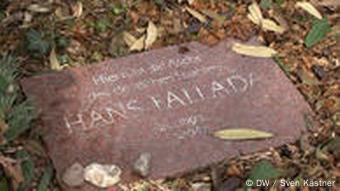 It wasn't until the 80s that Fallada was reburied in Carwitz
Decades later, Fallada's work is experiencing a renaissance and many literature buffs are making their way to the museum, though it is far away from the beaten path. The author's last novel, titled "Alone in Berlin" in the UK and "Every Man Dies Alone" in the United States, was recently released in translation and promptly became a hit on the English market.
Based on a true story, the book recounts how a working-class Berlin couple becomes politically active during the Nazi regime when their only son dies in battle during World War II. They come up with their own resistance campaign, fully aware that being caught would cost them their lives.
It was publishing houses outside of Germany which were responsible for rediscovering Fallada's last work. It was published in France in 2002, then in the US in 2009.
"The edition in the US gave the impetus for further translations, which also came out in 2009 - in Italy, Great Britain, and the Netherlands, and in 2010 there was a Hebrew edition in Israel," said Erika Becker, director of the Fallada Archive.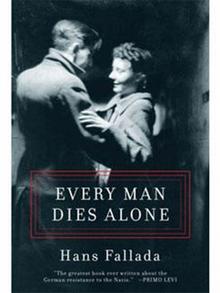 The US edition was released in 2009
The very first edition, from 1947, appeared almost exclusively in Germany. The story was also made into a movie several times, including a 1975 production with star German actress Hildegard Knef.
Plight of the individual
It's ironic that "Every Man Dies Alone" became one of Fallada's most famous works, since he was not politically active himself.
"Fallada wasn't interested in political processes or social developments, but was much more concerned with the individual's ability to manage a given situation," commented Becker.
Indeed, while other writers were abandoning Europe, Fallada stayed and tried his luck as an author in Germany even after the Nazis came to power.
During that time, he was prepared to make concessions to the National Socialists, though he didn't run into many conflicts since he mainly wrote children's stories and light fiction. First editions of these works are on display in Carwitz, along with letters, manuscripts and sketches for "Every Man Dies Alone."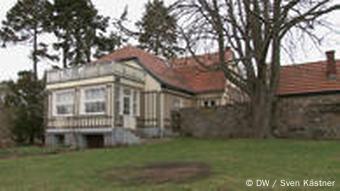 Fallada spent over a decade in this quiet house in Carwitz
In 1944, Fallada left his family for a young lover. His drug addiction worsened and, following a therapy in 1945, he returned to Berlin, where he died in 1947.
It wasn't until the 1980s that his body was exhumed and reburied in Carwitz - a belated return to the place where he'd spent his best years.
Author: Sven Kästner / kjb
Editor: Sarah Steffen