The case follows a landmark ruling in June, in which the French state and the rail firm were fined 62,000 euros ($80,000) for their role in the wartime deportation of two Jewish men. The SNCF has appealed the decision.
The families, who include French, Israeli, Belgian, Canadian and American nationals, will launch their legal action in September, their lawyer Matthieu Delmas said on Monday. He did not specify if all, or any, were Jewish.
Many of the petitioners include pensioners who were interred in the Drancy concentration camp near Paris as children. The camp is referred to as an "antechamber of death" because it served as a transit center to death camps in eastern Europe.
More petitions expected before Sept. 1 deadline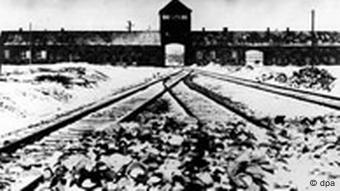 Thousands of French citizens died in Nazi concentration camps during World War II
The survivors and their families intend to demand "compensation for the prejudice suffered as a result of (their relatives') deportation -- in livestock wagons, in inhuman conditions, knowing full well that people risked being murdered," Delmas said.
"We have about 200 petitions ... (and) we are expecting more," he told Reuters, adding that more were coming in before a Sept. 1 deadline for filing against the SNCF.
Initially Delmas said he plans to ask the SNCF for an overall settlement "in the region of" several million euros, giving it two months to reply before taking the matter before an administrative court.
The SNCF did not comment on the petitions.
Since class action suits are not permitted in the French legal system, the cases could be heard individually if the petitioners and the rail operator do not reach an agreement.
June ruling gave survivors and families hope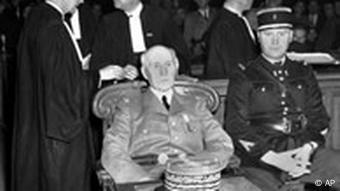 Head of France's Vichy government, Philippe Petain was found guilty of collaborating with the Nazis
In June, a French administrative court upheld a lawsuit brought by the family of France's Green party deputy Alain Lipietz, whose father and uncle were taken by train to an internment camp in Paris in May 1944. Both survived the war.
Similar cases have previously been dismissed on the grounds that the SNCF was commandeered by the occupying German army, while the Vichy government was an aberration for which the post-war French state was not responsible.
But Lipietz argued that the jurisprudence had changed since 1995, when President Jacques Chirac recognized France's role in the oppression of Jews, and 1997, when the trial of Vichy official Maurice Papon proved the participation of the government in the deportations.
Delmas said his clients were heartened by the Toulouse court that awarded Lipietz 62,000 euros and said the SNCF's acts amounted to an "act of negligence of the state's responsibilities" as the rail company never issued "any objection" about transporting the prisoners.
Of the 330,000 Jews living in France in 1940, records show 75,721 were deported to concentration camps and only about 2,500 returned alive.