The German city of Wuppertal said on Tuesday that it will evacuate a high-rise building after inspectors discovered that it had exterior siding made of a similar material to that of Grenfell Tower in London.
The residents of the 11-story apartment block would be housed in temporary apartments and allowed to return once the siding had been removed, the city said.
"We know it's a burden for residents to be moved without any notice, but we felt we had to act immediately since there are clear dangers to life and limb," said fire department spokeswoman Martina Eckermann.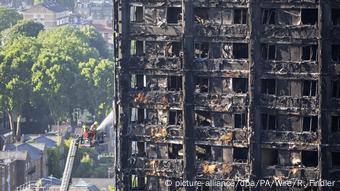 Grenfell Tower erupted into flames on the evening of June 14, leaving 79 people - and possibly more - presumed dead. It later emerged that the building had been clad in a highly flammable type of tiling that was selected for cost effectiveness rather than safety when it was refurbished last year.
Earlier on Tuesday, UK Prime Minister Theresa May promised a full-scale investigation into use of the material after 95 buildings with similar insulation were tested and recorded a 100-percent failure rate. Some 600 residential high-rises in Britain are suspected of have similar facades. Hundreds of people were evacuated over the weekend amidst safety concerns.
The supplier of the material, a US-based firm called Arconic, said on Monday that it was stopping all sales of the material for tower apartment blocks.
es/rc (AP, dpa)