World Health Organization (WHO) Director-General Tedros Adhanom on Monday told countries to brace for a "potential pandemic" of COVID-19.
But Adhanom said the virus could still be stopped. "This virus can be contained. Indeed there are many countries that have done exactly that," he said. He praised the efforts of China, which locked down several cities in an attempt to contain the outbreak.
He said a WHO joint mission to China had concluded that the virus there "peaked" between January 23 and February 2 "and has been declining steadily since then."
So far, the WHO has declared the virus, which has claimed more than 2,600 lives, a global health emergency, but has not yet resorted to describing it as a pandemic.
"For the moment we are not witnessing the uncontained global spread of this virus and we are not witnessing large-scale deaths," Adhanom told reporters in Geneva. However, he said that countries should be "doing everything we can to prepare for a potential pandemic.
"What we see are epidemics in different parts of the world affecting countries in different ways and requiring a tailored response," he said.
UN Chief Antonio Guterres urged countries to do everything possible to contain the virus.
"All countries - and this is now a problem that is affecting many countries in the world — all countries must do everything to be prepared," Guterres said.
"The disease it's still possible to contain but if some fail, if some do not do everything that is needed, this can still become out of control with dramatic consequences in global health and the global economy," Guterres said.
Read more: Coronavirus European surge sends panic through markets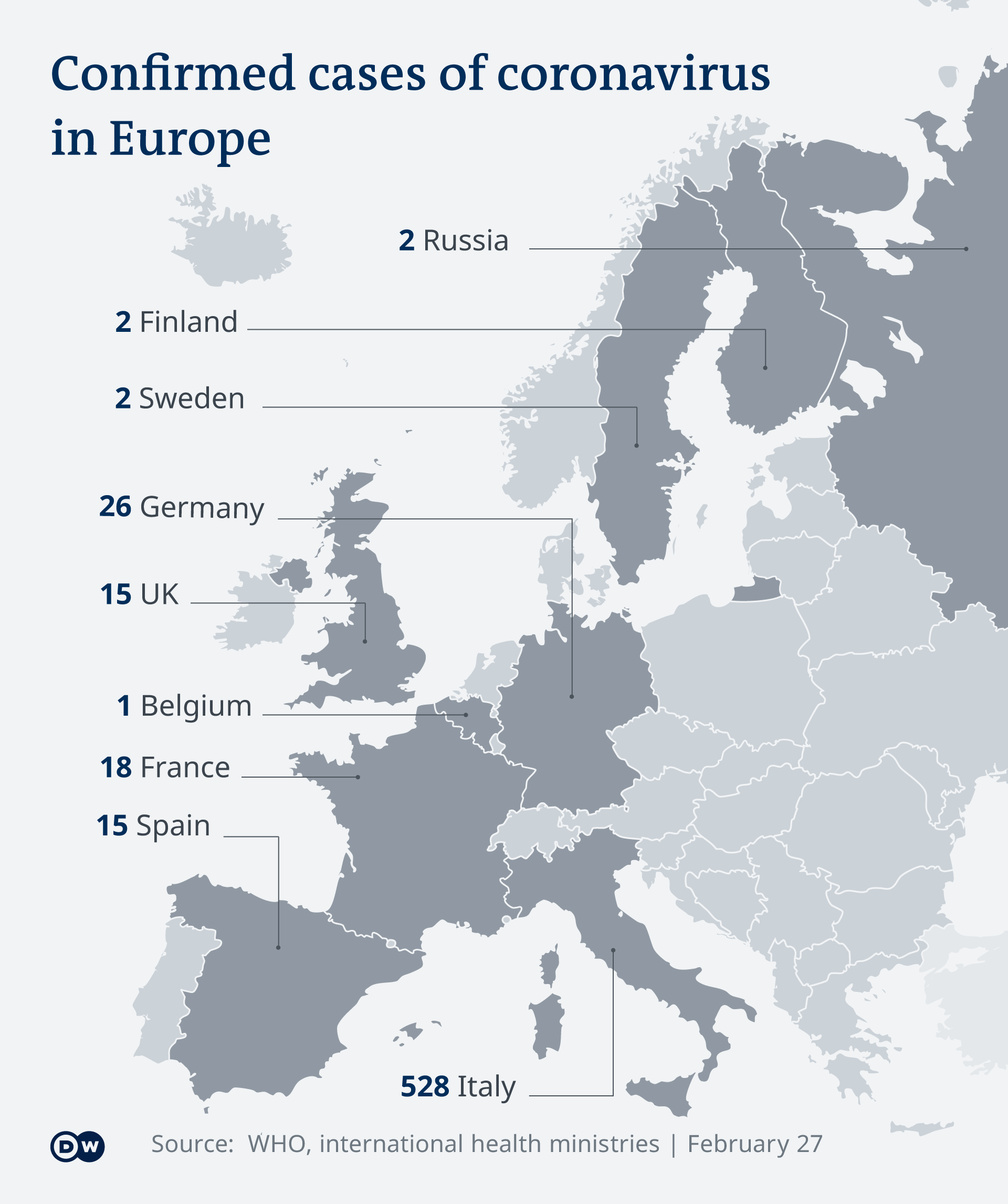 Hundreds of cases in Italy
Italy reported a total of six deaths and more than 220 confirmed infections on Monday. This is the most confirmed cases in Europe, and the third-most in the world after China and South Korea.
Two virus clusters developed last week in the northern regions of Lombardy and Veneto, but infections have now been reported in the neighbouring regions of Emilia-Romagna and Piedmont.
Some 10 towns have been sealed off, isolating more than 50,000 people. Schools, museums and universities were also closed in much of northern Italy leading to panic buying.
EU health officials said they could foresee a "moderate to high" risk of more clusters in northern Italy.
Italian Prime Minister Giuseppe Conte said on Monday: "The economic impact could be very strong. At this moment we can calculate that there will be a negative economic impact, we are not yet in a position to forecast what will happen."
In a bid to avoid closing borders and jeapordising the EU's right to free movement, Italian authorities will meet with health ministers of neighboring countries to take coordinated action.
The European Commission said it did not see a basis for reimposing border controls.
Slovakia denies PM has COVID-19
Slovak Prime Minister Peter Pellegrini was admitted to hospital on Saturday with symptoms suspiciously similar to COVID-19.
On Monday however, his office denied he had contracted COVID-19 after widespread speculation.
"The Prime Minister is exhausted and has pneumonia, but that's all," Slovak government spokeswoman Patricia Macikova told AFP news agency.
He had earlier posted a photo of himself in hospital.
Fellow Slovak politician Boris Kollar, founder of the right-wing, euroskeptic party We Are Family, was also hospitalized with similar symptoms, but it was not confirmed if he had COVID-19. He had also shared bedside photos from Facebook.
12 dead in Iran as borders sealed
Iran's Health Ministry confirmed on Monday that 12 people have died and 61 have been infected with the coronavirus in the country.
But official figures have been thrown into question, with a member of parliament saying 50 people had died just in the city of Qom, 120 km (75 miles) south of the capital Tehran. He said a further 250 people had been quarantined there.
The parliamentarian representing Qom, Ahmad Amirabadi Farahani, accused the government of being too late to announce the outbreak.
Almost all the countries surrounding Iran have announced border closures or transport limits.
United States has 14 more cases
The US Center for Disease Control and Prevention (CDC) announced on Monday there were 14 confirmed cases in the country. The 14 cases are in addition to the 39 cases already reported among those evacuated from the Diamond Princess cruise ship and the city of Wuhan.
Health authorities have warned that that more cases are expected among the repatriated citizens.
aw/bk (AFP, Reuters, AP, dpa)