Nestled away in a sprawling sports complex on the outskirts of Moscow, Russia have largely been preparing for the World Cup opener against Saudi Arabia on Thursday away from critical eyes, and perhaps for good reason.
While there is no shortage of enthusiasm among Russians at the prospect of hosting some of the game's biggest stars, that soon fades when it comes to the national team's chances at its home tournament.
Russia are the lowest ranked country in the competition, and a winless streak of seven matches has done little to build up hope. After a recent lackluster friendly draw with Turkey, one Russian sports website said that, far from improving, the team's performances were getting worse.
On Tuesday at the Novogorsk training centre, goalkeeper Andrey Lunev and striker Artem Dzyuba (top, center) were tasked with facing the mostly Russian press pack. After seeking out a particularly critical journalist and complaining about negativity in the media, Dzyuba urged his countrymen to unite behind the team.
Read more: How safe and comfortable will World Cup fans be in Russia?
Joachim Löw and the luxury of longevity
Reasons for hope
"We want to prove to everyone and to ourselves that we can play football," he said. "We want our country to be proud of us. We want to show that we are a footballing nation, not just a hockey nation, or a basketball or volleyball nation."
Dzyuba is set to spearhead the Russian attack alongside Krasnodar's Fedor Smolov, who has scored an impressive 12 goals in 31 games for the national side and whose form this season has seen him linked with a move to an array of European clubs, including Borussia Dortmund.
Smolov's hot streak could be a reason for optimism and raise hopes of a best international tournament since Euro 2008, when an Andrey Arshavin-inspired Russia reached the semi-finals. Responding to a question from DW, Smolov's strike partner Dzyuba said that campaign should serve as a warning to any pessimists.
"We always see what we want to see," he said. "There are always a lot of negative things and then we don't notice the positive stuff. That's normal here. Nobody gave Russia a chance before Euro 2008 – 'It's not the right team, they can't do anything' – and then they beat the Dutch and everyone started shouting, 'Hooray, we're the best team of all time.'"
"So let's not rush to judge. We have a tendency to bury teams and then resurrect them and do the same thing all over again. Let's wait until the [Saudi Arabia] match. This tournament is a huge chance for us to convince the fans and a lot of the people who don't believe in us."
Changing of the guard?
The reality is this is a Russia side in transition. Coach Stanislav Cherchesov inherited an aging squad from his predecessor, Leonid Slutsky, who resigned following a dire campaign at Euro 2016. Cherchesov has tried to bring through a new generation of players but has been hampered by injuries, notably to key young defenders Georgy Dzhikiya and Viktor Vasin. Consequently, some of the old guard remain.
Cherchesov has not been immune to criticism due to his constant chopping and changing of his side. As one Russian football official admitted on Tuesday, "The coach is unpredictable. Only he knows who will play."
The 54-year-old has also done himself no favours by falling out with Lokomotiv Moscow's Igor Denisov, arguably the country's best midfielder, in a row that harks back to their time together at another Moscow club, Dynamo.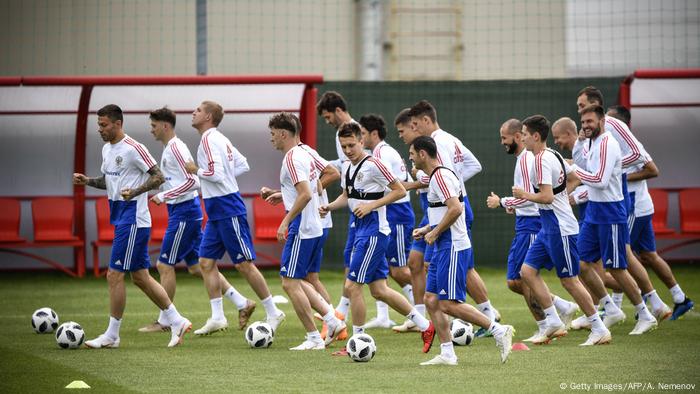 Russia host Saudi Arabia in the World Cup's opening match on Thursday
The aim is to progress to the knockout stages, something a Russian World Cup side hasn't managed since it competed as part of the Soviet Union in 1986. In a group that also boasts Egypt and Uruguay, the hosts can at least be thankful their opening game is against a side who, at 67, are ranked just three places above them in the FIFA list. Anything short of victory would surely be a disaster.
"I don't believe that we won't win," said Lunev, who is Russia's second choice goalkeeper behind longtime CSKA stopper Igor Akinfeev. "I hope that we'll bring a positive mood to our fans, and that it won't be like when we lost to Japan in 2002." After that match, supporters went on the rampage in Moscow, burning cars and smashing up shops.
An eye on the opposition
Training sessions on the pitch have been followed by tactical analysis of the Saudi team. The players have watched videos of their opponent's previous matches, which included a spirited friendly defeat to Germany in Leverkusen.
"From what I saw, they try to play attacking football, they run and like to pass the ball forward," Lunev said. "They aren't one of those teams who sit back and wait for their chance to hit you on the break. They are aggressive."
Russia will need to counter that with some aggression of their own, and not just to their harsher critics. A glossy magazine produced for the media highlighted some of the country's previous successes – think Lev Yashin and the Soviet sides of the 1960s – and also featured some fighting talk from coach Cherchesov.
"In weightlifting, you should always take the starting weight," he said. "Our starting weight at this tournament is the group stage. The Russian national team hasn't passed this for a long time. There are three barriers in the group. But anything is possible on the football pitch."