In a way, the Women's European Championship was the perfect tournament for Steffi Jones to start her career as Germany's head coach.
The Women's Euros is Germany's best tournament by far. They have won the competition eight times - including the last six editions.
Jones, who took over from Silvia Neid after Germany won the gold medal at the 2016 Rio Olympics, did not even have to face international giants such as the United States, Canada, Japan, Australia or Brazil.
However, the Women's Euros did not go her way at all. After beating Russia, drawing with Sweden and squeaking past Italy 2-1 in the group stages, Germany got completely out-played by Denmark in the second half of Sunday's 2-1 quarterfinal loss.
As a result, Germany were sent packing for the first time since 1993, and Jones is now on the hot seat less than a year into the job.
Read more: Schedule and results from the Women's Euro 2017
An underwhelming performance
Germany looked second best far too often in the Netherlands. Sweden, who Germany beat in the gold medal game in Rio last August, kept the defending champions at bay for most of their game. Italy, who have never defeated Germany at a Women's Euros, were able to stay in the game despite 25 shots from the Germans.
On Sunday, Germany were playing at a snail's pace when they were in possession. When Denmark upped the tempo in the second half, Germany could not keep up.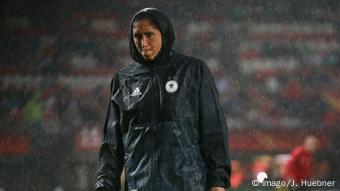 Steffi Jones patrolling the sideline before Germany's quarterfinal was postponed
Bear in mind, Germany's quarterfinal against Denmark was supposed to take place on Saturday and was pushed back to Sunday due to torrential rain. The midday kickoff may have left the Germans out of sorts, though it didn't seem to affect the Danes one bit.
"Our aggressiveness and conviction was lacking," said Germany goalkeeper Almuth Schult.
"It is disappointing how this elimination came about. When you have a rhythm for weeks and then need to warm up at 11 o'clock, that is quite a disaster."
Read more: Newcomers thinking outside the box to make an impact
But some of Jones' tactical decisions will be scrutinized. Isabel Kerschowski scored a terrific goal to give Germany the early lead, but she was too often exposed on the left side of Germany's defense.
Both of the crosses that lead to Denmark's two goals came from Kerschowski's side of the field. One has to wonder whether Carolin Simon, who started two of Germany's three group stage games, or Leonie Maier, who started last year's gold medal game against Sweden, would have been better options.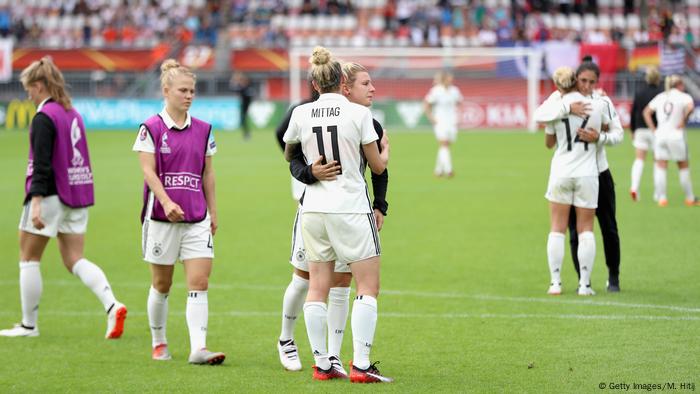 Anja Mittag (middle) hugs her teammate after Germany's loss to Denmark, ending more than 20 years of dominance
"Of course I question my decisions. We will analyze the Euros and then we will see whether if it has to do with our system, whether we needed to make other decisions," Jones said.
What Sunday's loss boils down to is Germany did not look up for the game, which is an important responsibility for a coach. Jones admitted that Germany's desire to win "was not as big as it was for Denmark."
Big decision for the DFB
Germany's performance at the Women's Euros was their worst ever. They had at least reached the last four in every Euro in which they have participated.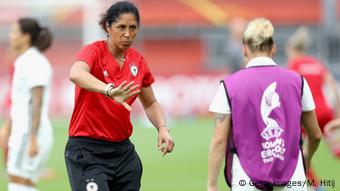 Will Sunday's quarterfinal be Steffi Jones' last as Germany's coach?
That leaves Germany's football association (DFB) in an unprecedented situation - with the men's team or the women's team. Do they fire a coach after just one international tournament?
If the DFB does let Jones go, she would be the shortest serving first team coach for either gender. Following Neid, who won two Women's Euros, a Women's World Cup and an Olympic gold medal as Germany's coach from 2005-2016, was never going to be easy to do, but Jones could end up doing so in the worst possible manor.
The lack of precedence does give Jones a decent chance of keeping her job as Germany prepare for the 2019 Women's World Cup in France. But she will have a nervous few weeks waiting by the telephone.