The group of international female activists, which was led by prominent American feminist Gloria Steinem (pictured above, center), crossed the Demilitarized Zone (DMZ) by bus shortly before midday local time on Sunday after being denied permission to make the crossing on foot.
North Korea allowed a South Korean bus to pick up the group of 30 women from 15 countries and take it into the DMZ, where it was met by United Nations officials. The activists were then allowed to march on foot after the final checkpoint on the southern side.
With their march, the activists intended to draw attention to the fact that the two Koreas, divided into North and South since the 1950-53 Korean War, have still not signed a peace treaty to put an official end the conflict more than 60 years after an armistice stopped the fighting.
The women also wanted to highlight the plight of families divided by the conflict, who have had little or no contact over the last six decades.
Perilous crossing
The group, which spent several days in North Korea prior to the crossing, had originally wanted to cross the DMZ through the village of Panmunjom, where the armistice was signed. However, the plan was opposed by South Korea, which urged the women to make a road crossing on the western part of the border.
Authorities from both sides had warned that the safety of the group could not be guaranteed if they walked across the zone.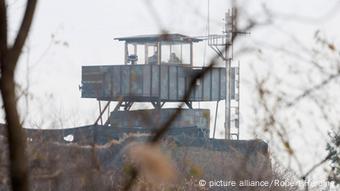 The DMZ is fortified with watchtowers and landmines
Crossings through the DMZ - which despite its name is one of the most highly fortified borders in the world - are extremely rare.
"We were able to be citizen diplomats," the 81-year-old Steinem said after the crossing into South Korea.
"We are feeling very, very positive. We have received an enormous amount of support," she added.
Organizer Christine Ahn, a Korean-American peace activist, also described the crossing as a success, calling it a "historic event" and expressing satisfaction that the group had managed to meet with North Korean women during its stay in the capital, Pyongyang.
Propaganda tool?
However, critics of the action say that the group had been used for propaganda purposes by communist North Korea, with an editorial in the "Washington Post" last week accusing Steinem and her fellow activists of aiding the country to stage a "human rights theater intended to cover up its death camps and crimes against humanity."
Criticism was also fueled by reports in North Korean media that cited members of the group as having praised the country's founder, Kim Il-Sung. The activists have denied making such comments.
Steinem rejected the accusations, saying on Saturday that the group had "achieved what we set out to do, which is to engage in citizen diplomacy."
tj/sms (AFP, AP)