The UN urged donor nations to give $111 million (103 million euros) in food and other aids for North Koreans during 2015 on Thursday while acknowledging that international sanctions were hampering deliveries.
The UN report released by UN humanitarian chief Valerie Amos said the scale of the need for North Koreans was of "grave concern."
Seventy percent of North Korea's population of 24 million, or around 18 million, did not have sufficient nutrition. Nutritious food was needed especially for "approximately 1.8 million children, pregnant and lactating women," it added.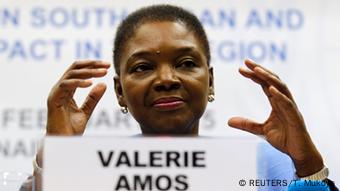 UN humanitarian coordination Valerie Amos
Potential donors were asked to contribute two-thirds of the $111 million for food and the balance in the form of sanitation, health, and educational services.
More than 6 million North Koreans need essential health care such as vaccinations, the report added.
North Korea's leadership headed by President Kim Jong-un remains under UN and US sanctions imposed in recent years to deter its nuclear ambitions.
Funds delayed
The UN report said US sanctions on North Korean banking operations had resulted in "significant" delays in delivering funds during 2014.
That in turn had caused "multiple operational obstacles," the UN said. Its World Food Program had been forced to trim its number of nutritional recipients.
Pentagon head visits region
Ahead of a visit to Seoul on Thursday by US Defense Secretary Ashton Carter, South Korea's defense ministry announced that North Korea had fired two surface-to-air missiles into the Yellow Sea off its west coast on Tuesday.
Last week, North Korea fired short-range eastward into the Sea of Japan in protest at annual US-South Korea military exercises.
One of the drills, Foal Eagle, is scheduled to run until 24 April.
The two Koreas remain technically at war. The 1950-53 Korean conflict ended in a ceasefire rather than a peace treaty.
ipj/jil (AP, AFP, Reuters)