An explosion at Istanbul's Sabiha Gokcen airport on Wednesday killed one cleaner on an airplane and injured another, Dogan news agency said, adding authorities were investigating whether the blast was caused by a bomb.
Turkey's private carrier Pegasus Airlines said the explosion at Sabiha Gokcen airport on the Asian side of the city occurred at 2:05 a.m. (0005 GMT), when no passengers were in the area. It said its operations at the airport were continuing normally.
Police armed with rifles and protective vests imposed tight security at entrances to the airport after the blast, searching vehicles while a police helicopter circled overhead, state-run Anadolu Agency said.
Airport cleaner Zehra Yamac, 30, died of head wounds, despite being rushed to a hospital, hours after the blast, CNN-Turk and NTV television reported.
The explosion took place just outside the terminal building where planes park for their passengers to embark and disembark.
Explosion took place next to plane
The budget airline said in a statement that the explosion took place next to one of its planes on the tarmac while the two cleaners, both women, were nearby.
"There were no passengers either on the plane or the stairway. Sabiha Gokcen Airport is continuing its normal operations," Pegasus said.
Turkey in on alert after 103 people were killed on October 10 when two suicide bombers ripped through a crowd of peace activists in the capital Ankara, the worst attack in modern Turkey's history.
That attack was blamed on Islamic State (IS) jihadists.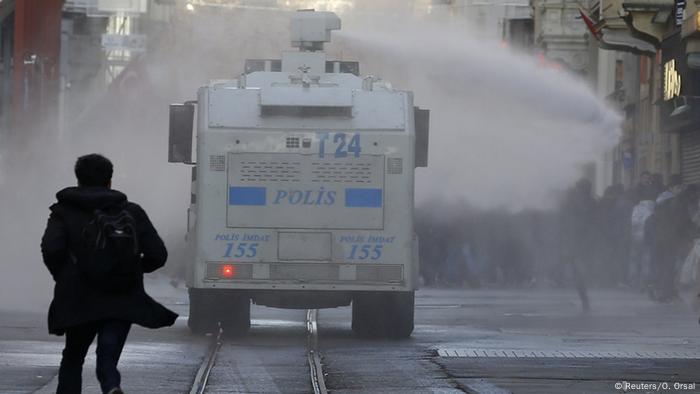 Police use water cannon and tear gas to break-up protesters in Istanbul earlier this month
Istanbul's second-largest airport owned by Malaysian Holding
Sabiha Gokcen airport, named after Turkey's first female fighter pilot, is the second international airport in Istanbul after Ataturk Airport on the European side of the city.
Sabiha Gokcen, which hosts flights both to domestic and numerous international destinations often with budget airlines, is now fully owned by Malaysian Airports Holding.
"We are working very closely with the Turkish government and our counterparts to facilitate the investigation, and we await their official report on it," Dato' Azmi Murad, the executive director of Sabiha Gokcen said in a statement.
Police declined to comment on the incident.
The airport said investigations into the cause of the blast were ongoing, and that air traffic was operating normally.
Bomb attacks by Kurdish, leftist and Islamist militants are common in Turkey. A three-decades-old conflict between the state and the militant Kurdistan Workers Party (PKK) has flared up in Turkey's mainly Kurdish southeast since the collapse of a ceasefire in July.
According to its website, the airport served 26 million passengers in the first 11 months of the year, less than half the number at the main Ataturk airport on the European side of the city.
bik/jil (Reuters, AFP)