In Austria, at least eight people have died since last weekend, and a 9-year-old child was killed near Munich on Thursday when a tree collapsed under the weight of the snow. On Friday, a snow plow driver in southern Germany died when after his vehicle after it plunged into an icy river.
The heaviest snowfalls in 20 years have covered southern Germany and Austria and parts of Czechia over the last week. Transport on road and rail has been affected, mainly by snow-laden trees.
The Austrian military used a short break in the winter weather to rescue a group of 66 German teenagers from a mountain guest house where they had been stranded for several days.
'Completely buried'
Reporting from the Austrian town Altaussee, DW correspondent Amien Essif described the town as "completely buried" in snow. He said it felt like "walking through a tunnel [with] walls of snow twice as tall as I am."
"This Alpine town has been half evacuated — authorities believe an avalanche could happen any time," Essif tweeted. "Even the mayor left his home."
Read more: Tintin and Snowy turn 90 — haven't aged a day
Hundreds of drivers spent Wednesday night in their vehicles in southern Germany as a snowstorm trapped them on their journey. Police said lorries slid on the motorway, blocking traffic over a 35-kilometer stretch.
Train travel across the south and east of Germany was affected by the snow, mainly due to fallen trees. Affected airports, including Munich and Frankfurt, canceled nearly 200 flights due to the inclement weather.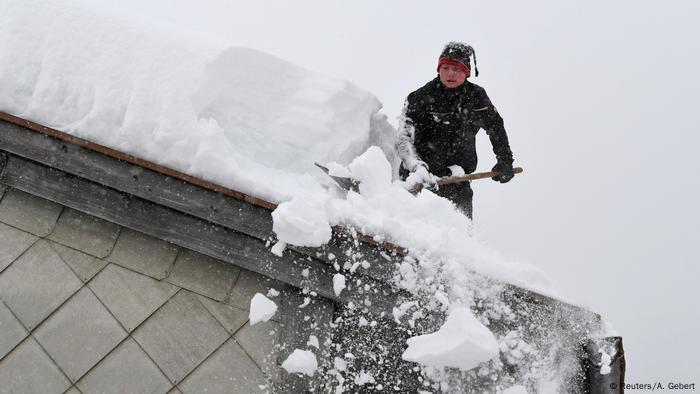 Meters more snow are expected to fall on already covered houses
Catastrophe areas
Up in the Alps near the border with Austria at Berchtesgaden, 2 meters of snow has already fallen and the resort was declared a catastrophe area on Thursday. Further up the mountain at Buchenhöhe, the German military organized special deliveries of food to the cut-off resort.
<div class="opinary-widget-embed" data-poll="do-you-think-climate-change-is-to-blame-" data-customer="deutschewelleeng"></div> <script async type="text/javascript" src="//widgets.opinary.com/embed.js"></script>
Read more: 'Snow farming' helping to keep Davos a 'cross-country-skiing paradise'
Berchtesgaden Mayor Franz Rasp said it would cost an extra €25,000 ($28,798) to clear away all the snow.
In Austria, rescuers saved nine tourists stuck in the snow at the Zell am See resort. Despite warnings, the group had ventured off-piste. Road access into the resorts of Lech and Obertauern was closed due to the risk of avalanches.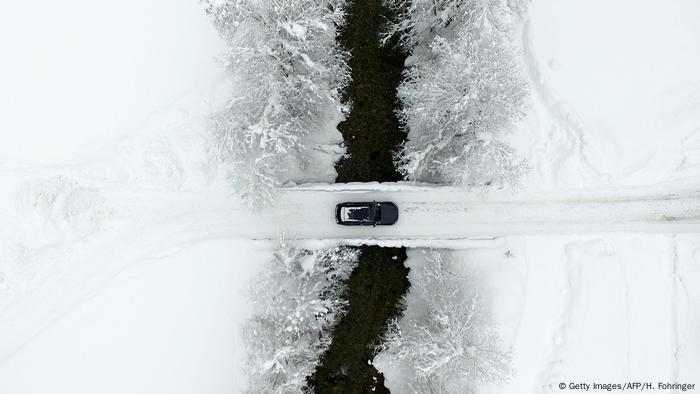 Crossing a snow-covered bridge in Austria
One man died when he was hit by his own car, which had been parked on a slope above him as he tried to clear snow from his garage in Feldkirch.
Power lines were damaged by snow and 4,500 homes were without electricity on Thursday. Austria expects a further half meter of snow to fall before the weekend.
Read more: On the quest for an eco-friendly winter jacket
Each evening at 1830 UTC, DW's editors send out a selection of the day's hard news and quality feature journalism. You can sign up to receive it directly here.
ls,jm/rc (dpa, AP)