One beacon of African democracy, a nation of half a million people, lies 500 kilometers (300 miles) off the coast of Senegal. It is the archipelago of Cape Verde, where power was transferred from the government to the opposition for the first time in 15 years on Sunday. The ruling PAICV (African Party for the Independence of Cape Verde) conceded defeat after the liberal opposition MpD (Movement for Democracy) took more than 53 percent of the vote with nearly all ballots counted.
Some 350,000 people were eligible to vote in Cape Verde, which consists of 10 volcanic islands, nine of which are inhabited. Residents punished the ruling party at the polls for not doing more to help those displaced by a volcanic eruption in 2014 in which thousands lost their homes. High youth unemployment was also believed to be another reason for PAICV's defeat. 37-year-old lead PAIVC candidate Hopffer Almada had hoped to become Cape Verde's first female prime minister.
MpD leader Correia e Silva said his first task as prime minister would be "the implementation of an emergency program in order to get real answers to the problems that Cape Verdeans are suffering from right now." The country is facing the Zika virus as well as economic woes.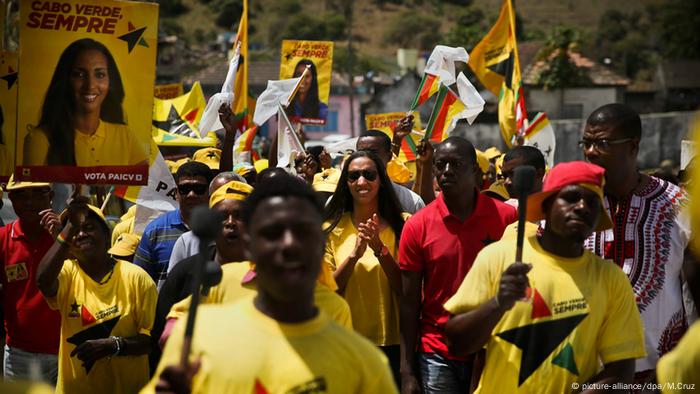 Janira Hopffer Almada, seen here with her supporters, was aiming to become Cape Verde's first woman prime minister
Benin
In the tiny nation of Benin, tucked between Togo and Nigeria, Lionel Zinsou conceded defeat to Patrice Talon on Monday (21.03.2016), boosting the country's democratic credentials.
Zinsou, Benin's prime minister, was backed by outgoing President Thomas Boni Yayi and the main opposition Democratic Renewal Party. Talon, a businessman who returned from exile in France in October, is a former supporter of Yayi.
Journalist Francis Kpatinde told DW he sees a change in attitude among the country's business community. "Previously they would have been content to fund political parties, now they are taking part in the elections themselves," he said.
Civil society groups denounced both candidates' campaigns on Friday for allegedly distributing cash in an attempt to buy votes.
However, the outgoing president has earned plaudits by relinquishing power after serving two terms in office in marked contrast to the leaders of other African nations who have amended their constitutions in order to stay in power.
Congo-Brazzaville
One such nation is the central African state of Congo-Brazzaville where police fired tear gas at opposition supporters on Sunday after voting ended in a poll expected to see long-time leader Denis Sassou Nguesso extend his three-decade rule.
The government shut down mobile phone and internet services and banned the use of motor vehicles on polling day. The opposition said on Friday it had documented preparations for widespread vote rigging but the government rejected accusations that it was preparing to cheat.
The vote came after a referendum in October 2015 when voters agreed changes to the constitution that removed a two-term limit, allowing Nguesso to run in the election.
Former colonial power France criticised the conditions of the referendum, saying they did not allow an accurate assessment of the result.
But Thomas Noirot, editor-in-chief of Billets d'Afrique, told DW that if France was serious about criticizing Nguesso it would have suspended military cooperation with him. It did not do this because of economic interests and of Nguesso's role as a mediator in the crisis in the Central African Republic. "There are a number of reasons why France supports Nguesso and we regard this as scandalous," Noirot said.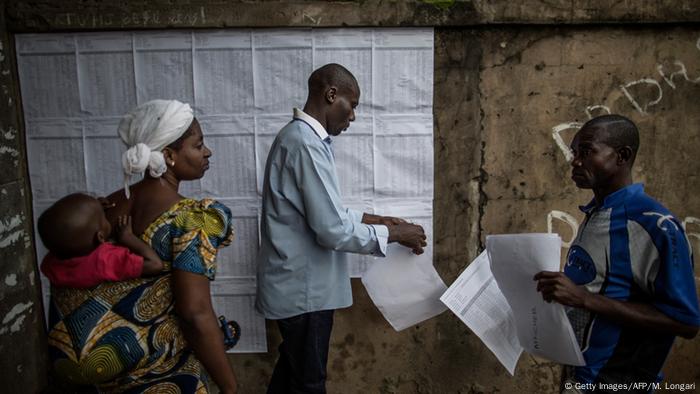 Voters casting their ballots in Congo-Brazzaville where President Denis Sassou Nguesso looks set to prolong his 32-year rule
Niger
In the West African nation of Niger on Sunday, President Mahamadou Issoufou looked likely to win Sunday's run-off election after the opposition called a boycott and its jailed leader Hama Amadou was flown out of the country for medical reasons last week.
Amadou, who was imprisoned in connection with a baby-trafficking scandal, has not been convicted. He claims the charges against him are politically motivated.
Southern Niger has been the frequent target of deadly raids by Boko Haram militants from neighboring Nigeria. It also shares a border with Burkina Faso and Mali where al Qaeda-linked groups are active.
Niger, an exporter of uranium, holds the lowest place on the UN's comprehensive Human Development Index.
Security forces were posted at polling stations and provisional results are expected in the next few days.
Mamoudou Gazibo, professor of political science at the University of Montreal, told DW that Niger is displaying political maturity. "Even though the opposition called for a boycott of the poll, there was no incitement to violence or disturbance of the electoral process," he said.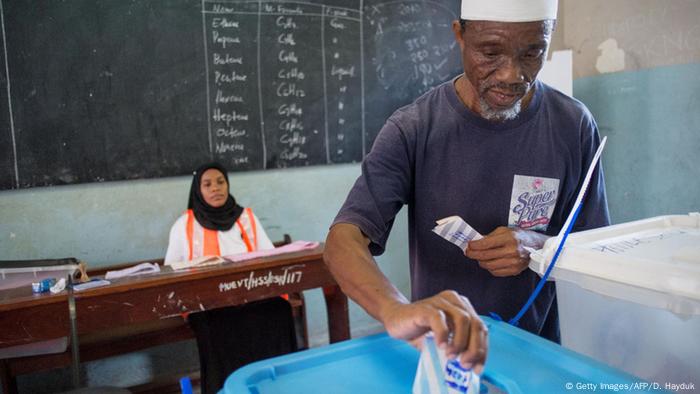 In Zanzibar questions are still being asked about why the Electoral Commission nullified the initial vote
Zanzibar
Uncertainty also hung in the air during the re-run of elections in the semi-autonomous archipelago of Zanzibar off the coast of Tanzania. The poll was boycotted by the opposition Civic United Front (CUF) and it was won by incumbent Zanzibar President Ali Mohamed Shein of the national ruling Cham Cha Mapinduzi (CCM) party. The Zanzibar Electoral Commission (ZEC) said he had polled 91.4 percent of the vote
The opposition claimed that it had won the initial election in October 2015, but the ZEC called for a re-run citing fraud. Nassor Mazrui, CUF secretary general said the party was boycotting this latest poll because its members believe the nullified results were legitimate.
Atillio Tagalire, political analyst from Dar es Salaam, told DW the ZEC had failed to explain why those results were nullified without a valid reason. "The election may have passed off without major incident, but you cannot remove that stain," he said.