Outgoing Prime Minister Lionel Zinsou and his newly-elected successor Patrice Talon went head-to-head for the second time on Sunday, after neither won an outright majority in the first round of voting on March 6.
The 62-year-old conceded on Monday, after overnight results gave Talon 64.8 percent of the vote, against 35.2 for Zinsou. Of Benin's population of over 10 million people, around 4.7 million were eligible to vote in Sunday's election.
"I called Patrice Talon tonight to congratulate him on his victory and wish him luck," Zinsou said in a statement on his Facebook page.
Hindered by dual nationality
Born in Paris to a Beninese father, Zinsou was educated in France and England and graduated from the London School of Economics. An economist and a former investment banker, he won the first round of elections earlier this month with 28 percent of the vote.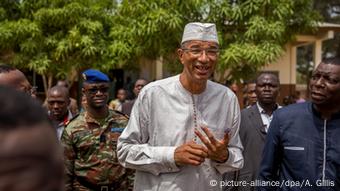 Out-going Prime Minister Lionel Zinsou
Despite support from outgoing President Thomas Boni Yayi and the main opposition Democratic Renewal Party, Zinsou struggled to overcome the perception that having spent a large part of his ministerial career abroad, he is an outsider in his country.
Talon repeatedly attacked Zinsou's dual French nationality during the election campaign, billing himself as the "authentic Beninese candidate."
The 57-year-old entrepreneur was previously a staunch supporter of Yayi before falling out of favor. Yayi later accused him of involvement in a plot to poison him in 2012. Talon consequently fled to exile in France, and only returned last October after receiving a presidential pardon.
Suffering economy
During their election campaigns, both Zinsou and Talon focused primarily on how best to revive Benin's faltering economy which is feeling the effects of falling oil prices in neighboring Nigeria.
Both campaigns were criticized by civic organizations, who have accused the two camps of allegedly handing out cash in an attempt to buy votes.
There have also been claims of ballot-box stuffing in districts in both the center and in the north of the former French colony.
ksb/jil (Reuters, AFP)