Bertelsmann believes some people who would rather leaf through a hands-on, printed book than surf through the Internet.

The company said on Wednesday, April 23, it would publish a print, German-language version of free online encyclopedia Wikipedia based on the 50,000 most commonly searched terms on the Web site from the past two years.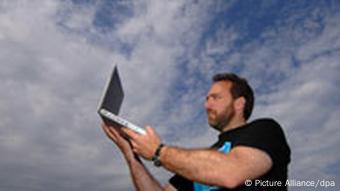 Wikipedia creator Jimmy Wales
"The Wikipedia encyclopedia will help allow knowledge to be spread worldwide and become more accessible," Beate Varnhorn, publishing director at Bertelsmann Lexicon, said in a statement.
She also noted that people with no permanent Internet connection could have access to the new reference work.
From Bruni to "Dr. House"
The one-volume print version is due out in September and will have on its 1,000 pages abbreviated passages from Wikipedia online entries.
The printed version is also supposed to be a snapshot of Wikipedia. "It's a document of the zeitgeist," Varnhorn said.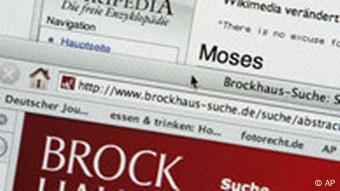 German encyclopedia giant Brockhaus shifted online this year
That means that anyone leafing through its paper pages will find passages on French first lady Carla Bruni, Playstation 3 and Donald Duck's fellow characters. Information on soccer stadiums and trivia about the US television series "Dr. House" will also be in the book, just as data about countries around the world and politicians will.
Wikipedia Germany said they were approached by Random House, a subsidiary of Bertelsmann, with the idea. Arne Klempert, a spokesman for the German chapter, told DPA news agency that commercial republication was allowed under the Wikipedia rules accepted by the site's users.
Those rules also applied to Random House, which would not be allowed to claim copyright over the book, he said.
"They can't re-monopolize it," Klempert noted. "This will demonstrate that open-source writing also offers publishing houses opportunities for commercial development."
Accuracy checks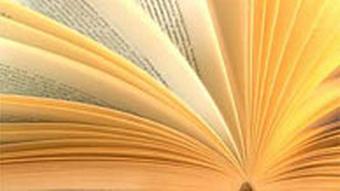 Some prefer flipping through a book rather than the Net
Bertelsmann/Random House hopes that a successful print version of Wikipedia will contradict claims that the traditional print reference book market is dying out due to the strength of the Web.
One of the strengths of Wikipedia online is that it's constantly updated. Users are allowed to make changes to the entries at will, with site organizers taking it on faith that writers will provide accurate information or correct errors. The German online version is considered particularly accurate.
Varnhorn said that for the printed book professional editors would check the facts and delete errors.
The printed German version will be priced at 19.95 euros ($31.85), with one euro of every copy sold earmarked for the German chapter of Wikimedia, the non-profit group behind Wikipedia, for the use of the name.
German Wikipedia is the second largest in size after the English-version Wikipedia. Estimates once said that would take at least 750 thick volumes to print all 2.3 million articles in the English-language version.