The documents contained 90 gigabytes of information including many classified documents, according to the statement on the Wikileaks website on Thursday. They are the property of government agencies such as the Federal Intelligence Service (BND, pictured above) and the Federal Office for the Protection of the Constitution (BfV).
The published materials had been submitted last year as part of a German parliamentary inquiry into the surveillance activities of the BND and its cooperation with the NSA.
"The collection contains early agreements between the BND and the NSA and internal processes at the BND, but also more recent details on the close collaboration between the two agencies," Wikileaks announced, adding: "This substantial new collection of primary source documents provides significant new evidence (of their collaboration)."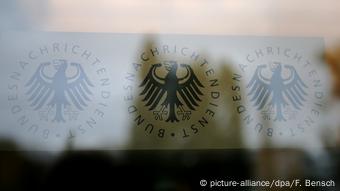 The BND emblem
The documents, Wikileaks claimed, contain the answers to questions posed by the inquiry committee as well as administrative documents, correspondence, agreements and press reactions. Wikileaks says there are 125 documents from the BND, 33 from the BfV and 72 from the Federal Office for Information Security (BSI).
Wikileaks announced the documents contained "a detailed insight, not just into the agencies themselves, but also into the mechanics of the inquiry." This included information on which private US companies were operating in Germany's security sector.
German ruling on Snowden testimony
The Wikileaks action comes after a German court ruling last week concerning testimony by former NSA employee Edward Snowden to the inquiry. It was in the wake of Snowden's revelations about the activities of the NSA that the inquiry was set up in 2014.
Snowden's travel to Germany was conditional on a guarantee from the government that he "would not be handed over to the US."
Last Monday, the Federal Court of Justice ruled that the committee was obliged to hear Edward Snowden in person. But at the next inquiry hearing on Thursday, the issue of Snowden's invitation was removed from the agenda, according to agency reports. Representatives from Germany's governing coalition say they want to appeal the court's decision.
Founder of Wikileaks, Julian Assange, said: "This substantial body of evidence proves that the inquiry has been using documents from Mr. Snowden and yet it has been too cowardly to permit him to testify. Germany cannot take a leadership role within the EU if its own parliamentary processes are subservient to the wishes of a non-EU state."
Last year, WikiLeaks published documents that suggested the communications of more than 120 top German government officials, including Chancellor Angela Merkel, were being intercepted by the NSA.
jm/gsw (dpa, AFP, AP)