The peasant woman casts a melancholy glance to the ground. Vincent van Gogh painted her in muted grey and brown tones 130 years ago. Now she's going under the hammer in an auction in Berlin's Villa Grisebach.
It was one of Van Gogh's early works and one of many such portraits painted between 1884 and 1885. The zenith of his oeuvre was yet to come.
Nevertheless, the small oil painting, hardly larger than a piece of paper, has drawn attention for months. It's expected to fetch between 600,000 and 800,000 euros ($660,000 to $880,000) - the cost of a nice house in Germany.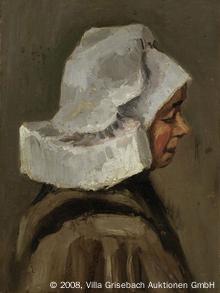 Vincent van Gogh's "Head of a Peasant Woman" (1884/1885)
A price of that enormity indicates that the art market is booming. Never before have artworks been selling for prices like these, whether at auctions, art fairs or in galleries.
According to the Art Market Report by the TEFAF art fair in Maastricht, inthe Netherlands, a record 51 billion euros were spent on art all over the world last year. Revenue is exploding in part because investors are increasingly turning to art.
In Germany, however, growth has been only minimal, with revenues up 10 percent last year. And, as with any statistics about the admittedly opaque art market, the TEFAF report should also be taken with a grain of salt.
Nevertheless, it's clear that the Germany's art market is lagging. The big money is being made elsewhere.
How the market is changing
According to the study, the United States maintains the largest share of the art market, accounting for nearly 20 billion euros in sales last year alone. China comes in at number two, followed closely by the UK. Together, the three countries make up 83 percent of the global market. Half of art sold around the world was created after 1945.
Works by Andy Warhol, Francis Bacon and Gerhard Richter have proved the most profitable, and Richter has long been considered the most expensive living artist in the world. His success, however, seems to be having little impact on his home country, Germany.
Nevertheless, Germany is important to the market because of its strong economy, said Philipp Herzog von Württemberg, chairman of Sotheby's Europe. Germany's strong network of galleries and educated collectors work in its favor, he explained.
However, "a top work, for example by Gerhard Richter, should be sold internationally," recommended Herzog von Württemberg, since the purchasing power is stronger. In New York, London, Hong Kong, or Shanghai, a seller can get more for a painting than in Germany, he said.
"Markets change," Herzog von Württemberg added, naming historical factors.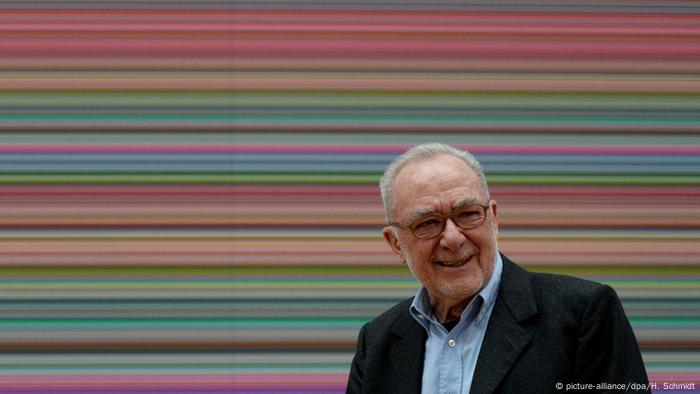 Gerhard Richter is considered the world's most expensive living artist
"In the golden 20s and 30s, the art market was European," pointed out Cologne-based art expert Gérard A. Goodrow, former director of the Art Cologne fair. European art was bought by European collectors, with hubs in Paris, Berlin, Munich and the Rhineland region.
"The politics in the Nazi era led to the isolation of the German art market," wrote economist Doris Christophersen in an article on the art market. "Only selected art sales took place, particularly with modern works that were deemed 'degenerate.' They were sold to buyers abroad in order to generate foreign currency."
It wasn't until after World War II that the German art market recovered, Christophersen told DW.
US art market benefitted from WWII
Goodrow agreed that it was the Nazis that stirred up the most dramatic changes in the German art market. "Most of the dealers were Jews. After the war, there were fewer Jews in Europe; many had immigrated to the US." Many artists followed the dealers to the US, which ultimately profited from the situation in Europe, added Goodrow.
The epicenter of the art world shifted to the US. "Painters like Josef Albers and Hans Hoffmann were very influential for the new generation of American artists," said Goodrow, who was born in the US. "We'd never have gotten to know these artists if World War II had never happened. America became interesting thanks to this European influence."
And this balance of power is still in place today. Sotheby's manager Philipp Herzog von Württemberg put it simply: "The wheel cannot be turned back so easily."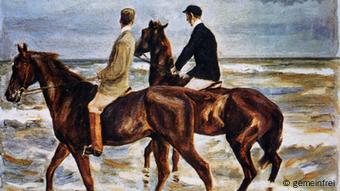 Max Liebermann's "Two Riders on the Beach" (1901)
Sales tax too high in Germany
But 70 years have passed since World War II and Germany's art dealers today consider themselves legally disadvantaged on the international playing field. In Germany, artists are required to receive of cut when their works are resold - money that is intended to go to the fund that pays artists' health care and pensions. High sales tax in Germany is also a hindrance for dealers.
"When you buy a painting in the US as a private individual, you pay seven percent in sales tax. If I sell you the same painting in Germany, I have to make you pay 19 percent in tax and then hand that over to the state," explained Cologne-based art dealer Klaus Benden.
Benden also criticized plans for a cultural protection law in Germany, which could stipulate that listed works of particular national importance may not be taken out of the country. "Nonsense!" exclaimed the art dealer.
Just a few days ago, Sotheby's announced that Max Liebermann's painting "Two Riders on the Beach" (1901) would be going under the hammer on June 24. The painting had been part of the art collection of Cornelius Gurlitt, which also contained a number of Nazi-looted works.
It's no surprise that the Liebermann work won't be auctioned off in Germany, but in London.