"After decades of studying what Philistines left behind, we have finally come face to face with the people themselves," said Daniel Master, the American archaeologist who has led an excavation of the site since 1985. "With this discovery, we are unlocking the secrets of their origins."
Master and his team, under the Leon Levy Expedition associated with Harvard University's Semitic Museum and other institutions, have been studying the remains of a Philistine settlement at the edge of the Israeli city Ashkelon for three decades. The cemetery - likely the first such discovery of its kind - was found in 2013 but kept under wraps until just recently.
Hailed as the "crowning achievement" of the decades-long dig, Daniel Master said it was an opportunity to finally see the Philistines "face to face."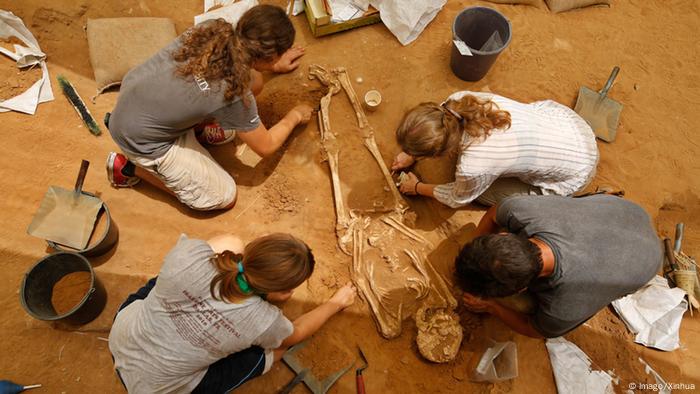 145 skeletons have been found at the site
Goliath not found among skeletons
Goliath, slain in the Bible by David, Israel's future king, is arguably the most famous Philistine. His people lived some three millennia ago as strangers in Jewish territory near what is now Tel Aviv.
The Philistines were traders and seafarers who lived in the area between what is now Gaza and Tel Aviv from 1200 to about 600 BC. They spoke a language of Indo-European origin, did not practice circumcision as the Jews did, and ate pork and dog, according to the researchers.
They were also said to have been experts in making wine and oil.

"In their teeth, we can see that they did not have an easy life," anthropologist and pathologist Sherry Fox said. "We see these lines that indicate a growth interruption as the teeth are forming. There were problems in childhood with either fever or malnutrition."
She added that no evidence of extraordinarily large Philistines had been found. Of the 145 skeletons found, the biggest Philistine buried at the site is thought to be 1.8 meters (nearly 5' 11") tall.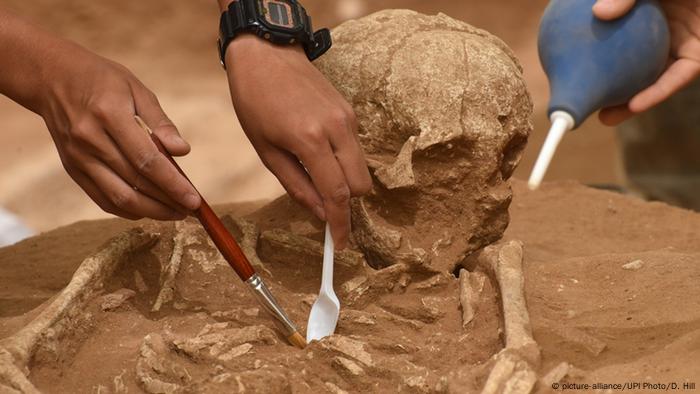 The bones have to be removed while wet, otherwise they'll turn to powder, says Daniel Master
The book of Samuel in the Old Testament recounts the famous duel between the giant Philistine Goliath and the young Israelite David, whose rock and sling fell the powerful opponent.
The Philistines in the Bible
In the Old Testament, the Philistines are described as the arch enemies of the Israelites and portrayed as savage plunderers. The book of Samuel also describes how they captured the Ark of the Covenant, which contained the Ten Commandments.
According to the researchers, the Philistines were completely destroyed by Babylonian king Nebuchadnezzar in the year 604 BC.
While the skeletons undergo careful examination by Daniel Master's team, some of the other finds from the site - including jugs, bowls and jewelry - went on display at the Rockefeller Archeology Museum in East Jerusalem on Sunday (10.07.2016).
kbm/eg (dpa, AFP)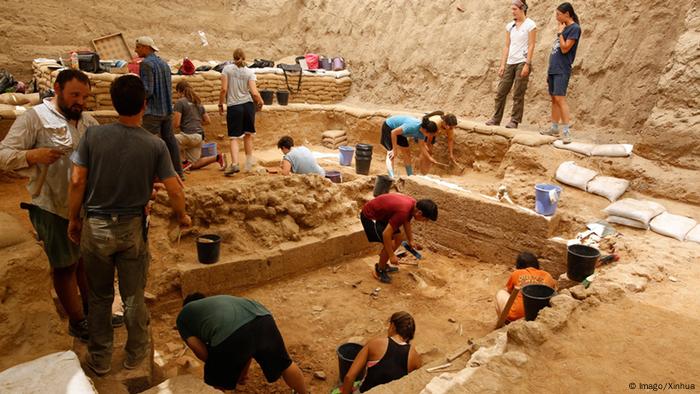 The excavation site has been studied since 1985