More than 150 countries and territories launched a new effort on Sunday that health experts hope will lead to the complete eradication of the polio virus within the next year or two.
Polio cases are currently just a fraction of the 1 percent of cases known in 1988, when 350,000 cases were recorded in 125 countries around the world.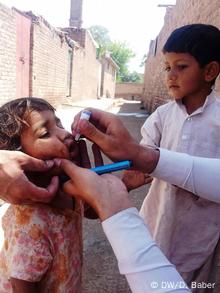 A Pakistani child receives an oral polio vaccine in the form of drops
But eliminating the last strands of the virus could prove tricky, in part because it involves a well-synchronized switching of vaccines across the globe - and that starts today, according to the World Health Organization (WHO).
The switch needs to be coordinated to prevent outbreaks in places where the old vaccine is no longer being used. The changeover is due to be completed by May 1.
Thousands of monitors will be deployed around the world to confirm that the problem vaccine is no longer in use, according to the WHO.
The old (trivalent) vaccine is geared to inoculate people from three strands of the virus. But the second strand has already been successfully eliminated in nature and now only exists through the vaccine. This is now the cause of most vaccine-caused infections, as it can gestate in the gut and be passed on to others via fecal-contaminated water.
Wild polio
The wild version of the virus now exists only in Afghanistan and Pakistan.
The new (bivalent) vaccine is designed to inoculate recipients from only two strands (one and three) of the virus.
There have only been 12 cases worldwide this year, in Pakistan and Afghanistan, so the prospect of spending $5.5 billion (4.9 billion euros - the cost estimated by the Global Polio Eradication Initiative) to eliminate polio may seem exorbitant.
But Michel Zaffran, the WHO's director of polio eradication, said even more money will need to be spent to keep the disease from coming back.
"Taking our foot off the pedal now could mean polio will within a few years spread straight back into large parts of the world and create 100,000 or 200,000 cases," Zaffran said. "The job has not been done and will not be done until we have fully eradicated the virus."
This is not the first time health officials have come close to eliminating the virus only to suffer setbacks. The GPEI was set up in 1988 with the aim of eliminating the virus by the year 2000. That effort failed but experts say the effort is worth the cost of eliminating the virus once and for all.
bk/bk (Reuters, AFP, dpa)