Andriy Yarmolenko has been an intriguing eastern European talent for the last few years. Though his talent has been tucked away in the lesser-known Ukrainian League, he has made an impact on the European stage, both at club level with Dynamo Kyiv and with the national team.
Part of Dynamo Kyiv's youth program as a kid, Yarmolenko returned to the Ukrainian powerhouse in 2007. Early in his career, local journalists called him the "new Sheva," referring to Ukrainian superstar Andriy Shevchenko.
Borussia Dortmund agree to sell Ousmane Dembele to Barcelona
Though Yarmolenko has yet to reach the heights of the legendary "Sheva," he brought Dynamo Kyiv back into the European picture. Thanks to Yarmolenko's 14 goals and 14 assists, Kyiv unseated five-time defending champions Shakhtar Donetsk as Ukrainian champions in 2014-15 - they also won the domestic double and reached the quarterfinals of the Europa League.
The following season, Yarmolenko helped Kyiv qualify for the knockout stage of the Champions League for the first time since when Shevchenko played for the club 17 years ago. He scored two crucial goals for the Ukrainian national team in a playoff against Slovenia to qualify his country for the 2016 European Championship.
He joins Dortmund having scored 137 goals in 339 games for Dynamo Kyiv, but also has 56 yellow cards and five red cards in those games, quite a high total for a forward. He also has 70 caps with the Ukrainian national team, six of which have come in European championships.
Dembele's replacement?
Borussia Dortmund were not going to find a like-for-like substitute for Ousmane Dembele three days before the transfer deadline. However, having lost their young star, they did want an experienced piece, according to a report in "kicker."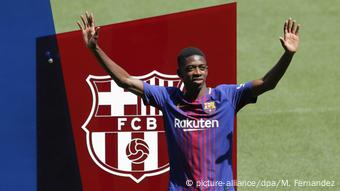 Ousmane Dembele was presented at Barcelona after his move from Dortmund
Dortmund had reportedly tried twice before to sign Yarmolenko. It seems the third time's the charm, as Dortmund have acquired the forward for a reported 25-million-euro ($29.8 million) fee.
"Andriy is a player we have been following for a long time and is at the top level for his club and with the Ukraine national team," Dortmund's sporting director, Michael Zorc, told the club's website.
He is not as quick as Dembele and, at 1,89 meters (6-foot-2-inches), he is taller than your average winger. However, he has a very strong left foot and is very skilled on the ball for a man his size.
The 27-year-old certainly has the experience Dortmund is reportedly seeking. Outside of Pierre-Emerick Aubameyang and Marco Reus, Dortmund's attack is comprised of players aged 18-23.
Dembele's quality may be missed, but for a Dortmund team playing in three competitions, Yarmolenko's signing will helped the club cover their bases.