Tajani, a member of the center-right European People's Party (EPP), won the run-off vote on Tuesday after liberal opponent Guy Verhofstadt withdrew his candidacy.
"This was a democratic process and as I said today, I will be the president of all; I will respect all members of parliament and all groups," Tajani said following his victory.
The 63-year-old politician is known in Brussels for his candid style and many allies, as well as his close association with ex-Italian Prime Minister Silvio Berlusconi.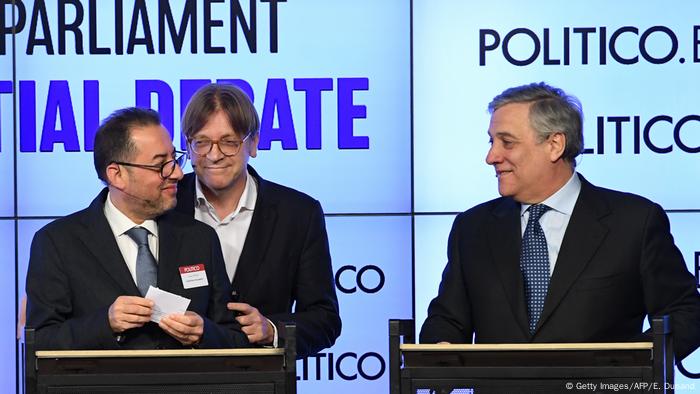 Tajani (far right) seen with opponents Gianni Pittella (far left) and Guy Verhofstadt (center) during a debate
Veteran EU politician
A pro-European center-right politician and long-time member of the European Parliament (MEP), Tajani served in the Italian Air Force before working as a journalist for Italy's Rai television and "Il Giornale" newspaper. He went on to become one of the founding members of Berlusconi's Forza Italia political party and served for a time as the prime minister's spokesperson.
Tajani was first elected MEP in 1994 and later served in the European Commission, the EU's executive body. He was transport commissioner from 2008 to 2010 and then industry commissioner from 2010 to 2014.
Since 2014, he has been the vice president of the EU Parliament.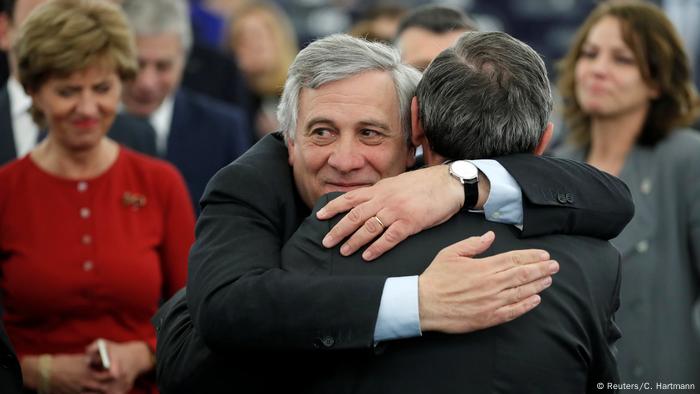 Tajani is congratulated by members of Parliament following his victory
'Many owe him'
People close to him in Brussels and Strasbourg paint him as savvy, well-liked and loyal. As one anonymous source in the Belgian capital told AFP news agency: "He has done favors for an enormous number of people and many elected members owe him."
On the other hand, some media outlets have expressed doubt over Tajani's appropriateness for the role, especially as he follows in the footsteps of the charismatic Martin Schulz. Politico Europe described Tajani as "precisely the sort of uncharismatic, insider apparatchik that gives the EU its reputation for aloof bureaucracy."
Tajani's victory came partly thanks to support from the ruling conservative parties in Britain and Poland, which are strongly critical of the EU. To earn their backing, Tajani issued a statement saying that the EU's problems cannot be solved by "more and more Europe."
The role of European Parliament president centers on overseeing the legislative body's budget and activities while ensuring parliamentary procedures are conducted properly. The president also represents the body internationally and in any legal disputes.