From reporting live while laying inside a grave to raiding public parks in search of dating couples, almost anything can feature on television screens in Pakistan. Such cases have frequently triggered backlash on social media but the relevant authorities have largely remained silent on the issue.
Although the Pakistan Electronic Media Regulatory Authority (PEMRA) exists to monitor media output, poor journalistic practice has been plaguing the rapidly developing electronic industry of Pakistan for some time.
Substandard training
Many local experts believe the rapid expansion of Pakistan's media sector is chiefly responsible for poor journalistic standards.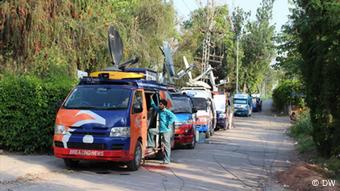 Experts believe the rapid expansion of Pakistan's media sector is chiefly responsible for poor journalistic standards
The country has witnessed phenomenal growth in its electronic media industry over the past 17 years. Until the year 2000, the state owned Pakistan Television Network (PTV) was the only media platform in the country, creating a monopoly over news and entertainment content.
Ironically, it was a military dictator, former army chief and president, Pervez Musharraf, who attempted to bring about change. According to PEMRA, 89 local operators currently possess licenses for satellite channels and another 23 foreign companies have been issued airing rights in the country.
Journalist and director of the Centre for Excellence in Journalism, Kamal Siddiqui, claims the industry boom has led to the inadequate training of staff. He believes stricter implementation of PEMRA's code of conduct alongside better education for future journalists is required to maintain acceptable ethical standards on Pakistani television screens.
"We have seen a number of poorly trained journalists in the field and on the desks who have no idea of what is ethical and what is not," Siddiqui told DW. He also says that ratings are always considered the most important indicator when determining how a particular program or content is performing as opposed to quality.
Kamran Wajih, the director for planning and strategy at media outlet Express Group, believes that a focus on ratings should not be blamed for low journalistic standards however.
"Rating is the globally acknowledged currency which provides return on investment," Wajih told DW. He says ratings are useful in informing the broadcasters of important trends, allowing them to generate appropriate content based on viewership patterns.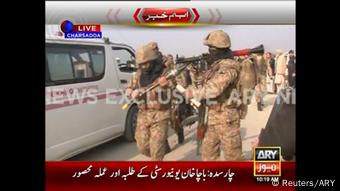 Live coverage of military operations often borders on sensationalism
Inadequate quality control
Sometimes however, quality can slip in pursuit of high ratings, leading to breaches in ethics codes. In 2016, several news outlets sparked outrage following their insensitive coverage of the death of Abdul Sattar Edhi, an internationally recognized philanthropist. In one notable instance, a TV reporter gained access to the grave prepared for Edhi and decided to jump into the hole and report live from inside.
Live coverage of military operations during a 2014 siege at a Karachi airport, the perceptible incitement of violence against religious minorities and disregard for the feelings of a recently bereaved family member are just some more egregious examples of blatant violation of basic media-ethics codes.
Wajih believes that weak monitoring by PEMRA is to be blamed in this case. "There is a need to revisit monitoring laws and regulations which can help in controlling media owners and reshaping the content," he says.
Political motivations
Politics also often prevents good quality reporting in Pakistan. While addressing PEMRA in relation to Pakistan's questionable media ethics, Siddiqui says that in the past much of the action taken was politically motivated. Although PEMRA has recently become more active in taking notice, complaints are frequently blocked by courts via the issuance of stay orders to offending parties.
Most media groups in Pakistan tend to follow one political line or another. Siddiqui says "the problem is multi-layered" and most newspapers, channels and radio stations are owned by business houses who follow the party which would benefit them the most.