In doubt for a number of days, coach Robin Dutt has now been officially sacked by Werder Bremen management. His coaching assistants Damir Buric and Marco Langner have also been given their marching orders, according to a press release from the club on Saturday (25.10.2014) afternoon.
Dutt, who took over at Werder Bremen in the summer of 2013, had been in charge for a total of 43 games at the club. During that time Bremen - which won the German championship in 2004, and have been runners-up twice since - had only managed 43 points. So far this season, Bremen has still not managed a win.
Most recently Bremen had failed to win at home against Cologne, after Nigerian striker Anthony Ujah scored the lone goal in the game for the guests.
Future plans
Viktor Skripnik has already been named as the new coach at Bremen. Together with his coaching assistants Florian Kohfeldt, former Bremen pro Torsten Frings und Christian Vander, Skripnik had until now been coaching the club's U23 team.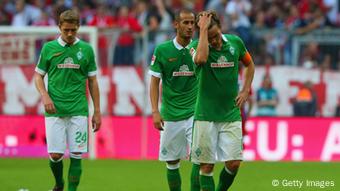 Werder Bremen hadn't won a game all season so far
"After the last results we are convinced that the team needs new input, to come out of their current situation," club sporting director Thomas Eichin said on Werder Bremen's website.
The decision to make the former Bremen player Viktor Skripnik head coach, a man who has worked for a long time with the club's juniors, makes sense says Eichin.
"We think he has the skills to give the team a confidence boost and to help them win games and develop," Eichin said.
Robin Dutt is the third coach to be sacked this season in the Bundesliga, after Mirko Slomka left Hamburg and Jens Keller was sacked at Schalke.