DW: Mr. Feuchert, every year on November 15, Writers in Prison day commemorates writers and journalists who have been imprisoned or persecuted. The question is posted each year: Where are writers most vulnerable?
Sascha Feuchert: There are many hot spots around the world. Currently the most dangerous land for journalists and authors is definitively Mexico, because writers are not only subject to state repression but also threatened by drug cartels. Here in Germany, we've currently got a colleague in our Writers-in-Exile Program, Ana Lilia Perez from Mexico, who had to flee the country because she was confronted with an onslaught of death threats.
How did you manage to get her to Germany?
She was able to leave the country, and with our Writers-in-Exile-Program we can offer colleagues stipends for up to three years. The funds come from the federal budget, so our colleagues can find refuge here for three years and continue their work in safety.
To what extent does the PEN Center support authors so that they may continue their work and even publish it?
We have an extensive network here in Germany; we're probably the largest association of writers here, so we can facilitate contacts. We provide authors with performance opportunities, readings and discussions, so that they can report about their work and their fate.
We're talking now about a platform in which authors have already left the land where they were repressed. What can the Writers-in-Prison Committee from Germany do for authors who are imprisoned in their own country.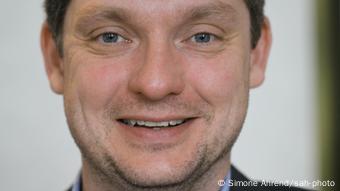 Feuchert is vice-president of the PEN Center in Germany
In that regard, we're logistically less successful. But we can bring these cases to light and keep them in the public eye. We do this on our website, over our social media channels and, of course, in our press releases.
When things are made public, it seems that dictators or other unjust regimes are less likely to make these people "disappear." Publicity is extremely important. In addition, we try to get in contact with the imprisoned colleagues through letters to let them know that they're not forgotten or alone. Unfortunately, we're not always successful.
How do you receive the replies? That can't be easy if someone is sitting in a prison in Kazahkstan, for example.
Speaking of Kazahkstan, I can tell you about the case of poet Aron Atabek. We wrote him a letter about eight weeks ago, and he was actually able to answer us. He replied to us with a poem that he dedicated to us, along with a longer letter. Of course these letters are often subject to censorship. Some imprisoned authors receive our letters but are unable to reply. We often learn from them afterwards that they received the letters but couldn't reply. Even if they were censored, they were very important signs of outreach.
Let's take a look at the past: The Writers-in-Prison-Committee has existed for more than 50 years. One can't say that the situation for writers has improved. Are you not afraid and concerned, in a time when countries monitoring citizens and reigning in freedoms?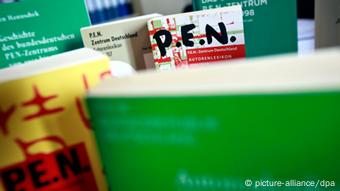 Every six months PEN publishes a list of persecuted writers from around the world
Of course! We look at this situation with great concern. In fact, freedom of speech is a fundamental right that can't be denied in a democracy. We're very concerned about what is happening in western countries - and we express this worry.
You're correct in the assessment that the situation has not improved for persecuted writers around the world. But that doesn't mean we should give up. These are individuals for whom we are fighting.
You mentioned Western countries. What is the PEN Center's stance, specifically in regards to the US?
We've expressed ourselves very clearly regarding the NSA and Snowden affairs. We've sent open letters to the US government, and when the International PEN does this together with big names - Salman Rushdie, for example - then people listen. Whether this will make an impact, I don't know. But we can't keep silent, and we won't be.
Sascha Feuchert, born in 1971, is a representative of the German Writers-in-Prison-Committee. Feuchert is also vice-president of the PEN Center in Germany, which is part of the international writers' P.E.N. - "Poets, Essayists, Novelists."