My, how times change! A little more than a year ago, on May 5, 2015, a visibly confident CEO appeared before Volkswagen's shareholders in a large exhibition hall in Hanover. VW, he said, was a "very healthy, well-positioned company." The man at the lectern was Martin Winterkorn, who faces charges of market manipulation. He had just emerged victorious from an internal power struggle against Ferdinand Piech, the company patriarch who had tried to push him out of office. "Behind us lay turbulent times, to put it carefully," Winterkorn told the audience.
What the CEO didn't know at the time (or maybe he did?) was that the real turbulent times for him and his company were yet to come. It was only five months later that VW's diesel scandal broke and Winterkorn resigned. Europe's largest auto maker, still weakened by infighting, was plunged into a full-on crisis - the worst in its 80-year history. The consequences are well known: 11 million cars affected worldwide, a record loss on the books, trust among customers at an all-time low, and billions in penalties on the horizon.
German prosecutors are interested in what VW's ex-CEO Winterkorn knew about dieselgate and when. They are investigating him for alleged market manipulation, suspecting him of concealing crucial imformation from shareholders
New strategies, many questions
The Volkswagen Group presented its new strategy a few days ago, highlighting its future plans for digitalization and electrification as well as a new corporate structure and culture, but all that's bound to only be of secondary interest for VW's shareholders, who are descending on Hannover on Wednesday.
Most of all, they have loads of questions: How could a scandal of such magnitude have happened in the first place? Who's responsible? Did the company's leaders know about it? Why is it taking VW so long to come up with a plan to rectify its mistakes? Why do normal shareholders still stand no chance against the company's majority stakeholders, namely the Porsche and Piech family clans? Is Hans Peter Pötsch really the right man to head the company's supervisory board? After all, he spent 10 years as VW's CFO, and was therefore a close confidant of Martin Winterkorn. How dare company managers accept bonuses worth millions of euros when the company is still ensnarled in its biggest-ever crisis?
A woman on the supervisory board
Indeed, Volkswagen remains an anomaly in terms of its ownership structure. Ninety percent of so-called voting shares, meaning those whose owners may cast a vote at Wednesday's annual meeting, are owned by three major stakeholders: the Porsche Automobil Holding (owned by the Porsche and Piech families) with 52.2 percent, the state of Lower Saxony with 20 percent and the State of Qatar with 17 percent.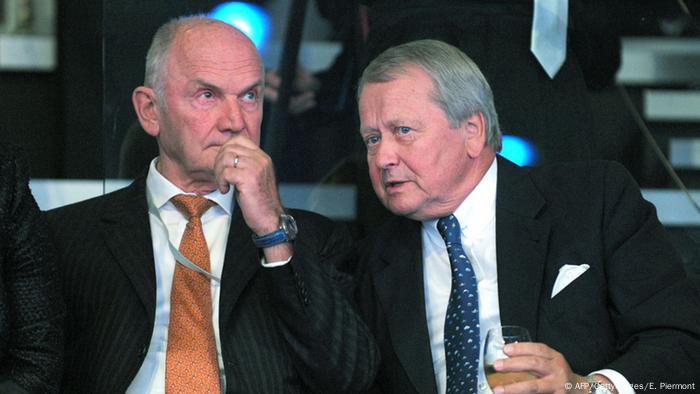 Ferdinand Piech (left) and Wolfgang Porsche, two family patriarchs who are working behind the scenes to steer Germany's flagship carmaker through difficult times
These three entities suffered massive losses after VW's stock tanked. As a result, Qatar seems willing to abandon its reticence. An interesting side effect of that has been Qatar's decision to name its first woman to VW's supervisory board, the engineer Hessa Al-Jaber. There, she'll be in the company of other females, so that VW meets its gender quota.
Turbulent times
That might be sufficient for a little praise under different circumstances, but the critical voices are bound to drown out any positive feedback from shareholders. The British hedge fund TCI, for instance, which owns 2 percent of so-called preferred shares, had already made clear in the run-up to the general meeting what it thought of the company's new management: not much. TCI head Chris Hohn, known for being an aggressive investor, recently wrote a letter to VW's management and supervisory boards in which he articulated a number of sharp rebukes, not least of which due to the 400 millions VW paid in bonuses to its managers.
"Those are corporate excesses of epic proportions," the letter read, continuing: "Management was rewarded for its failures." However, TCI's problem is that it holds no voting shares and is therefore reliant on others' help. Now, VW can still afford to react coolly to Hohn's letter, but if TCI manages to bring, say, Qatar over to its side, it'll be a much different picture.
Lingering threats of a special probe
Another investor is also leveling heavy criticism against VW's management. Hans-Christoph Hirt from the London-based investment fund and shareholder adviser Hermes EOS is calling for a new beginning. In an interview with the German daily Frankfurter Allgemeine Sonntagszeitung, he supported other investors' proposals of a special probe that would be independent of VW's own internal investigation into its diesel scandal. VW's ownership structure wouldn't allow for such a measure, he admitted, but at the very least after a vote one could "turn to the courts and effectuate a special probe that way."
One way or the other: VW's shareholders aren't likely to get the answers they're looking for about the diesel scandal at the general meeting in Hannover. And the company still isn't commenting on the current status of the investigations, saying such a move would expose VW to incalculable risks as long as no adequate agreement has been reached with authorities and customers in the US.
In addition, a court in California just extended the deadline for Volkswagen and the US environmental authorities to submit their detailed plans for how they intend to recall the affected diesel vehicles and to make amends with customers. The date was originally June 21, one day before the general meeting. Now, that deadline has been postponed by a week. The announcement of potentially good news is another thing shareholders probably shouldn't hold their breath for in Hannover.